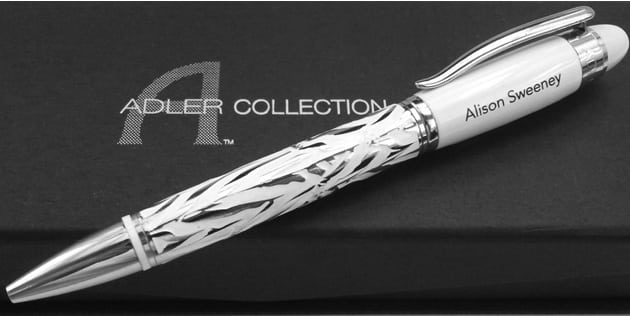 On Saturday, November 5, 2011, the cast of NBC's "Days of our Lives" will be celebrating the the 4th Annual "Days of Days" fan event at CityWalk at Universal Studios Hollywood. While signing autographs, the stars will be signing with their very own personalized Adler Collection pens (see photos for samples). Soap Opera Network has partnered with the pen maker in giving away a free personalized pen to three lucky winners along with a personalized video congratulations from a "Days of our Lives" cast member.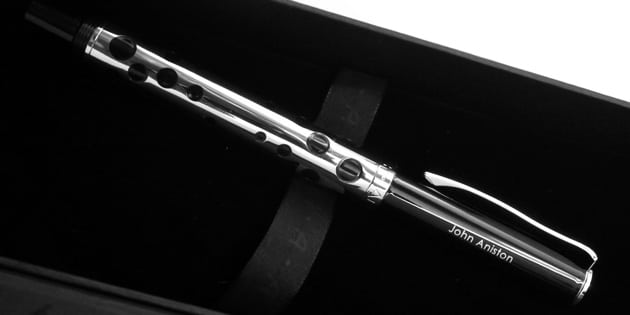 The giveaway will run from 6:00 PM ET on Thursday, November 3 through 12:00 PM ET on Saturday, November 5, 2011.
To enter, answer the following question correctly and you will automatically be entered in a random drawing that will take place immediately after the close of the giveaway.
Question: What month, day and year did "Days of our Lives" premiere on NBC?
To enter, submit your full name and mailing address to [email protected] with the answer to our question (make sure to include "Days of our Lives" in your subject line).
TERMS & CONDITIONS

NO PURCHASE NECESSARY. Void where prohibited. Open only to legal residents of the U.S. and Canada who are 18 or older. Commencing on Thursday, November  3, 2011 at 6 p.m. Eastern Time ("ET") and continuing through Saturday, November 5, 2011 at 12 p.m. ET, Soap Opera Network will run the "Days of Days Fan Giveaway!" in which three (3) Adler Collection pens  will be given away to three lucky individuals that correctly answer the question, "What month, day and year did 'Days of our Lives' premiere on NBC?" To enter, submit your name, mailing address and the answer to [email protected]. Emails must include "Days of our Lives" in the subject line. There is a one prize limit per winner. A total of three winners will be selected. Winners will be notified by e-mail. Offer valid while supplies last. Names and addresses will not be used for any other purpose by this site or its corporate parent (see privacy policy).
About the Adler Collection
Adler Collection creates, manufactures, personalizes and retails contemporary accessories and executive merchandise. It markets a range of finely crafted items with designer detailing and embellishments appropriate for gift-giving and personal use. Fine writing instruments, luxurious leather portfolios, travel accessories and specialized table-top merchandise are personalized items available through its' catalogs and website theadlercollection.com.