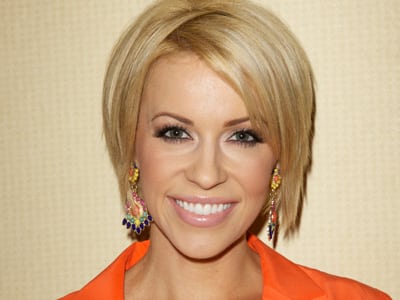 (SoapOperaNetwork.com) — A look at what's happening on "One Life to Live" during the week of October 24, 2011.
THIS WEEK ON: ONE LIFE TO LIVE
Viki and Clint share a tender moment on Monday, October 24. Rick wants the Ford brothers to be in Starr's music video. Starr and Rick clash over details. Cord is taken aback when Tina dons Viki's old wedding for Rex's costume party for Brody and Natalie on Friday, October 28. Viki and Tina discuss the men in their lives. Viki offers to stay home with Clint. A letter arrives at Llanfair for Clint from Kim. And Tina makes an interesting discovery at the party.
The Inside Story: Lost Loves
Todd makes an admission at Tomas' hearing on Monday, October 24. Nora is forced to make a decision about Todd, and gives Téa a warning. Blair remains angry at Tomas for his recent actions. Todd has some good news to share with Viki. On Wednesday, October 26, Tomas asks Blair if she is still in love with Todd. However, a confused Blair isn't able to give him an answer. Helping his sister get ready for Halloween, Todd tells Viki he plans on getting his life back. Tina claims to her siblings that peace within the family is most important to her at the moment. Meanwhile, Jack makes a frightening discovery at the cemetery on Wednesday, October 26.  And later, he spots Rex and Shane having a warm moment at Gigi's grave.
A Closer Look: Who Am I?
Rex gets into a scuffle with Cutter on Monday, October 24. Kim's friend makes an surprising realization about herself. Clint explains to Viki why he's really been holding a grudge against Rex. Rama and Vimal confess their secrets to one another. Cutter freaks out when Kim's friend goes missing on Tuesday, October 25. Meanwhile, the woman turns up at Llanfair. Tina comes face-to-face with Cutter. Aubrey and Rex continue to bond. Marcie and Michael surprise John with a visit to Llanview. John, meanwhile, dodges their questions about his love life. On Wednesday, October 26, Rex and Aubrey talk with Shane about Halloween costumes. Marcie reminds John of Brody's past, while Michael suggests a possible motive. Brody arrives at an inopportune moment. Roxy questions Natalie about her engagement. Rex and Marcie share a warm reunion. By Friday, October 28, Cutter convinces Kim's friend to attend Rex's costume party. Natalie's actions make Brody feel guilty. Roxy and Michael push John to talk to Natalie. And Shane eulogizes his mother as the party gets underway.
OLTL ALERTS: WEEK OF OCTOBER 31, 2011

Viki and Clint take a trip down memory lane.
Cord and Tina find themselves all alone.
Roxy finds a confidant in Tina.
Dani is worried about her mother.
John encounters Natalie in her wedding dress.