Wednesday, March 18, 2009 5:00 PM EDT |
By Scotty Gore
---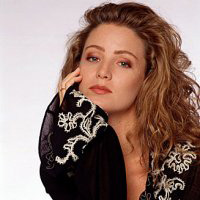 (SoapOperaNetwork.com) — Haunted by the ghosts of the past.
THIS WEEK ON: ONE LIFE TO LIVE
Talia is disheartened by Antonio's announcement that he is leaving Llanview to hunt down Carlo Hesser. On Wednesday, March 25, the Vega clan gathers to give Antonio a proper send-off. Meanwhile, Jared and Natalie contemplate what to do next after getting the proof they need concerning Jessica and Starr's babies. And, just when they believe they have figured out what to do with the truth, Jessica asks them to become Chloe's godparents. Brody confesses to Dr. Levin that he intends to tell Jessica how he feels about her. And Langston tries to knock some sense into Starr regarding Schuyler on Thursday, March 26.
The Inside Story: Sisters by Blood Only
Stacy tricks Gigi into believing that her bone marrow is a match for Shane on Monday, March 23. To complicate matters further, Stacy refuses to help her nephew unless her sister terminates her relationship with Rex. Horrified, Gigi listens in disgust as her sister claims that she and Rex were meant to be together, and would be today if Gigi had snatched him away back in high school. At the same time, Roxy is conflicted as she recounts her recent conversation with Stacy. By Tuesday, March 24, Stacy's face is red following her confrontation with Gigi. As she storms off, however, Stacy claims that her offer won't last forever. Brody commends Shane on his bravery. As he leaves with Jessica, Shane wishes that Brody could find love. Michael shares good news with Rex and Gigi concerning the international bone marrow registry list on Thursday, March 26. Their joy is short lived however, as Michael is forced to inform Rex that the match fell through. Meanwhile Gigi, unaware of the recent developments, prepares to tell Stacy where she can go. Unfortunately for Gigi, she is soon forced to eat crow on Friday, March 27. Now begging her sister's assistance, Gigi is uncertain if she will be able to fulfill Stacy's demands in time to help her son. Meanwhile, Rex keeps up a brave face in front of Shane.
A Closer Look: A Family Affair
John and Marty realize that she is connected to the murders on Monday, March 23. The discovery comes after finding the letters "KAD" on the victims, the same as those of the college fraternity where Marty was once raped while at Llanview University. The Cramer women are shocked to learn that Todd is intent on regaining custody of his children. At the same time, Shaun, Moe, and Ray unite to thwart Todd's attempt to visit Jack. Cole is shocked to learn that Marty has hired Téa to defend him. Meanwhile, Michael shares the news with Addie and Starr that Blair is coming out of her coma. Todd, confident that he will get custody of his kids, seeks out Viki's help on Tuesday, March 24. Viki however, disappoints Todd by refusing to testify on his behalf, and chastises him for doing this given what has happened to Blair. Later, Téa confides to Viki that she has fallen for Todd again, but is trying to suppress her feelings. Three generations of Cramers are reunited as Addie and Starr visit Blair, who is unaware of just what has happened to her. On Tuesday, March 24, John pays Blair a visit at the hospital, and apologizes for not being there for her when she needed him. Promising to be a better boyfriend, John gives into her requests by explaining to her that she was stabbed in the shower. Later, he ushers Todd out of Blair's room when he arrives for a visit. Meanwhile, Starr informs Todd in no uncertain terms that she does not want to live with him, even if Jack and Sam do. Blair convinces Téa to represent her in the custody case against Todd. Nearby, Bo and Nora continue to share their grief over Matthew's condition, which leaves Clint on the outside looking in. Destiny shows Matthew just what a good friend she is. On Thursday, March 26, Matthew appeals to Nora to go easy on Cole. After making a promise to her son, Nora presents Cole with a deal to help him avoid jail time if he agrees to enroll in a drug treatment program. Cole proves it's hard for a leopard to change his spots however, as he asks Asher for more pills just before his arraignment. Furthermore, Asher helps Cole fake his urinalysis. Meanwhile, Matthew tries to adjust to life in a wheelchair. And, on Friday, March 27, Téa cooks up a surprise at the custody hearing.
One Life to Live News and Headlines
SON ALERTS: WEEK OF MARCH 30, 2009
Monday: Gigi goes to extremes to please Stacy. Todd promises revenge on Téa. John floors Marty.
Tuesday: Gigi works to make Rex fall out of love with her. Jessica has bad timing regarding Brody. The sparks fly between Cristian and Layla.
Wednesday: Todd is being watched. Dorian finds herself jealous when Ray and Téa go out on a date. Clint and Nora's relationship is in peril because of Matthew's condition.
Thursday: Gigi sacrifices her happiness for her son's well being. Todd attempts to use Téa's feelings against her. Things get hot for Cristian and Layla.
Friday: Starr uses her feminine wiles on Schuyler. Stacy is confident she will get what she feels she deserves. Todd receives an unwelcome surprise.
"One Life to Live" airs Weekdays on ABC. Weeknights on SOAPnet. Check local listings.
---
Discussion: OLTL PreVUE: Week of March 23 Edition
---