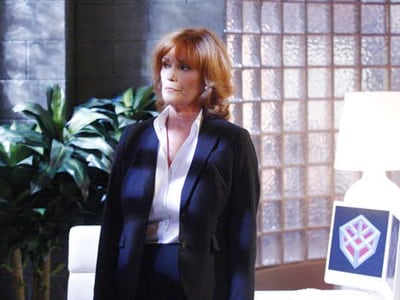 (SoapOperaNetwork.com) — A look at what's happening on "One Life to Live" during the week of September 26, 2011.
THIS WEEK ON: ONE LIFE TO LIVE
Rex sees Gigi again. Cord comes to Llanfair to see Clint on Wednesday, September 28. Cord isn't pleased with Rex's running of the family company. Bo interrupt a tense moment between father and son. And Rex confides in Shane that he's been seeing Gigi's spirit, and this time she gave him something on Thursday, September 29.
The Inside Story: Bombs Away
Todd finally convinces Téa to help him. Irene visits Viki under the pretense of apologizing to her old friend on Monday, September 26. Viki tears into Irene. Blair attempts to get a confession out of Jack. Irene turns the tables on Viki. Tina is on her way back to Llanview with doggie David Vickers in tow. Tomas mans up. On Tuesday, September 27, Tina arrives just as Victor's will is about to be read. Todd receives a menacing note from his mother. Todd and Starr have a difference of opinion. Tina is heartbroken. Irene plans an explosive homecoming for her loved ones. Todd's family is shocked to learn of his latest stunt, and Starr's involvement in it. Tina and Todd fight. Téa tries to get Todd to turn himself in. Shane recalls the night of Victor's murder. Todd and Irene butt heads. Doggie David Vickers, and later Bo, each make a shocking discovery on Friday, September 30.  Tina and Cord rehash old times. The dog goes missing.  And Cord reaches out to Tina.
A Closer Look: Sisterly Hate
John notices Natalie's engagement ring on Monday, September 26. Bo encounters an upset Natalie, who later tells Rex that she has agreed to marry Brody. Rex questions his sister's true motives. Jessica confides in a sympathetic Ford. Natalie and Jessica have a major altercation on Wednesday, September 28. Brody tries to keep the peace, and afterward asks Clint for his blessing. Brody stands his ground, and Clint relents. By Friday, September 30, Jessica, still licking her wounds, is forced to tell Clint and Viki about the fight. Viki talks to Natalie about her sister and the men in her life. Clint tells Jessica about Brody's visit. And Brody gives Natalie a shoulder to lean on.
OLTL ALERTS: WEEK OF OCTOBER 3, 2011

Bo risks his own life to save the lives of others.
Jessica's discovery could change Natalie's life.
Starr must deal with the consequences of her actions.
Will Cord and Tina come together in a kiss?
Someone in Llanview turns up dead.