Monday, July 27, 2009 1:08 AM ET |
By Venus Stone
---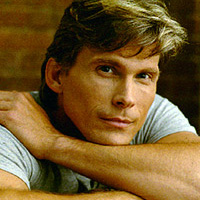 (SoapOperaNetwork.com) –The fight of his life…
THIS WEEK ON: GUIDING LIGHT
All of Springfield continue to pay respects to Jeffrey, Monday, July 27. Marina refuses to give up on proving her innocence to Mallet. Olivia opens up to Ava about her feelings for Natalia.
The Inside Story: Holding on to Hope

Phillip has a heart to heart with Lillian and admits that he wants to make things right with Alan. Lilllian voices her skepticism about Alan when Phillip shares his father's story about his draft. Meanwhile, Alan, wanting to make sure James is far away from Daisy, plans on keeping him busy at Spaulding Enterprises. During a visit from James, Josh puts Daisy on the spot by calling him her boyfriend. In the meantime, Alan voices his concerns to James that he needs to be a part of the family,in the hopes of looking strong and united. Phillip, on the other hand, isn't focused on the board meeting and tells Alan he has something to handle. He soon finds himself meeting with Ed for a check-up and learns from him that there is a new procedure that can save him. When Phillip returns home, he walks in on Alan and James arguing. Alan takes Phillip to task informing him that he needs to help him put James in line. Phillip, however, snuffs Alan's suggestion and informs him he has other plans to bring the family together. Later that day, Alan walks in on a telephone conversation Phillip is having and wonders what is going on. Phone call completed, Phillip finds James and advises him to think before he does things since he wants to be the one to help break the bitter cycle of father/son battles. He then shares with James that he has a plan that could be that to rest once and for all. Worried that Phillip is setting his sights on Spaulding Enterprises, Alan corners Rick in hopes of finding out if he knows anything about Phillip's plan. Rick, curious as to what is going on spots Phillip on his way to see Ed but Phillip quickly covers Once alone with Ed, Phillip tells Ed he's not taking the option for treatment; but rather dedicate his time to do his best to put the Spaulding family back together. Back at the Spaulding mansion, James lets slip to Alan that Phillip shared with him that he was working on a plan to help the family. Alan assumes it's his decision to take over the company. When Phillip sees Alan, he lets his father know that he's heading out of town for a few days; Alan quickly offers to accompany him.
A Closer Look: Finishing What Was Started
Buzz opens up to Lillian and tells her how much he misses Coop. He later tells Frank about a book that Coop was writing about Jenna's life, pointing out that he wants to make it happen.. Frank tells Buzz that Coop's belongings are still in the school locker. Buzz heads over to the school and pours over his belongings, finding the tapes and notebook that are specifically for the book. Meanwhile, Mel, who has went to see Cyrus, tells him that Buzz will be willing to speak on his behalf.but the case if far from being an easy one. Buzz heads home and begins going through the tapes of Jenna and realizes Coop had been working for months on research about her. Meanwhile Buzz shows up at the police station and asks Cyrus just how much he knows about Coop's book and soon posts his bail so he can help him out.
What To Watch
Shayne shares some good new with Reva
Frank is upset by Buzz's actions
Guiding Light News and Headlines
Dorothy Lyman, Emmy award winning actress, will come to the show as 'Joanne' Monday, August 3
Fiona Hutchinson reprises her role as the ghostly "Jenna"on Wednesday, July 29 and Thursday, August 13
Tom Pelphrey returns to the show as 'Jonathan Randall" on Wednesday, August 5
Maureen Garrett comes back to Springfield as 'Holly Lindsey-Reade. She returns to the show Wednesday, August 26
Frank Dicopoulous ("Frank Cooper") will be the honorary chairperson for FAAN Walk for Food Allergy: Moving Toward a Cure in Long Beach, NJ on Saturday, September 12. Please visit FAAN for more detailed information.
Murray Bartlett ("Cyrus") and other daytime stars will set sail on Soap Cruise, the Third Voyage on Thursday, January 28 until Monday, February 1, 2010. Please visit Soap Cruise or call 1-888-381-4654 for more detailed information.
SON Top 10: Who was the best of the best on "GL" during the week of July 20, 2009? You decide! The SON Top 10 is back! Voting begins Friday's at 4:00 PM, EST.
SON ALERTS: WEEK OF AUGUST 3, 2009
Alan finally learns everything
Frank's evesdropping gives him key information
"Guiding Light" airs Weekdays on CBS. Check local listings.
---
---
You may not reproduce content without written permission from author.

© 2009 Soap Opera Network. All rights reserved.
Discussion: GL PreVUE: Week of July 27 Edition