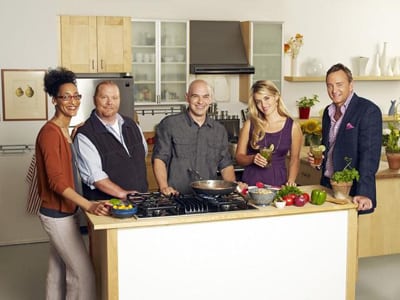 (SoapOperaNetwork.com) — "All My Children's" replacement show "The Chew" debuts today, just three days after "AMC" aired its final episode on ABC, and I can't help myself in wishing it would just go away. No, it isn't the show or what it is all about. In a perfect world I'd care to watch it from time to time, after all we all have to cook good and healthy meals don't we? But it is the way the network went about handling "The Chew" which included non-stop advertising during "AMC's" final weeks on television along with non-stop advertising on soap opera centered websites including Soap Opera Network that I find myself saying "what a way to spit on your audience."
Of course daytime has changed according to ABC's own research and their viewers were really tired of watching soap operas so it makes sense to promote your new shows to your audience, but the only audience you had were watching soaps, so who is going to watch "The Chew" if not soap fans? "The Chew" is being promoted everywhere you look. On TV, on billboards, in magazines and if I recall correctly (or IIRC) and not mistaken, it's also being promoted in movie theaters with pre-show clippings. Where was this type of advertising for daytime soap operas?
Do I wish the show failure? If I were being honest with myself I'd say yes just so ABC can be proven wrong in their presumptions, but I don't think it will bomb. No matter if it lands itself below "All My Children" in every ratings category from here on out, it will still be a success for ABC because the network is spending 30-40% less than they did on "AMC." Ratings no longer matter, it's all about the bottom dollar and just like Jeff Zucker, who has joined the network as it gets ready to launch a Katie Couric hosted daytime talk show next year, said when he ran NBC  "we're managing for margin, not for ratings. So it's the expense of our shows, the consistency of our shows being on the schedule. It's not determined by the size of the ratings, because the size of the ratings of a show we cannot afford is not going to do us any good anymore." Right or wrong, that's just the new reality.