(SoapOperaNetwork.com) — During a stop in New York City at the NBC Experience Store within 30 Rockefeller Plaza (NBC's corporate headquarters), while promoting the new coffee book "Days of our Lives 45 Years: A Celebration in Photos," cast and crew members from the show sat down with Soap Opera Network to discuss their characters, their lives and much more. In our first interview, actor James Scott (EJ DiMera) talks about the Taylor switch (see Livingston OUT! Braun IN!) and why his character is so bad!
English born actor James Scott joined the cast of NBC's "Days of our Lives" in the contract role of EJ DiMera in May 2006. Since then, he's seen his character go from a seemingly harmless, but definitely womanizing, race car driver to a corporate lawyer and for the most part as the dastardly evil son of Stefano DiMera (Joseph Mascolo). So how does his portrayer see the character right now? "He can be a little bit bad at times," said Scott. "He's just really an insecure guy for the most part who doesn't deal very well with many situations." One could argue that he's in for a big situation when EJ starts playing with fire with wife Nicole's (Arianne Zucker) sister, Taylor Walker. "EJ has just met this girl [Taylor] and he feels something for her," the actor shared. "I don't think he quite knows exactly what it is, but he feels drawn towards her in a way. I think you'll have to wait and see exactly what happens. It is a good story."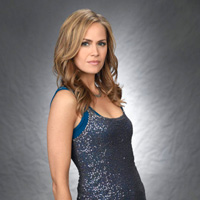 Natalia Livingston, who had been portraying the role of Taylor on the soap since the characters debut in late January, was fired recently after the show decided to take the character into a different direction. Said direction included the casting of actress Tamara Braun, who portrayed the role of Ava Vitali (who ironically was one of Nicole's few friends) in 2008, to take over from the departing Livingston beginning in late April. So how does Scott think the change will affect the current storyline? "I have to say I think it'll be surprisingly seamless. I had worked with Tamara, but not a tremendous amount. Obviously, Tamara and Natalia are very different actors. It has been a big transition in the story," said Scott. But what insight can he share into the decision to change actors? "I don't know why they decided to make the switch. From what I was told, they were taking the character in a new direction. I don't know what that direction is, but we'll have to see. I really enjoyed working with Natalia. I don't really understand why they switched the two actors around. I'm sure they had their reasons and at some point we'll see."
"Days of our Lives" airs Weekdays on NBC. Anytime on NBC.com. Check local listings.
Tamara Braun
Days of our Lives
James Scott
Natalia Livingston
Arianne Zucker
Comings & Goings
Joseph Mascolo