Monnday, August 17, 2009 1:17 AM ET |
By Venus Stone
---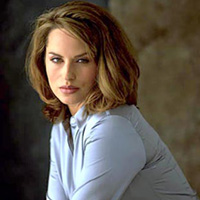 (SoapOperaNetwork.com) — A purpose to return…
THIS WEEK ON: GUIDING LIGHT
Billy prepares Vanessa for a surprise wedding, Monday, August 17. Edmund sets his sights on baby Sarah. Friday, August 21 things heat up between Cyrus and Mel.
The Inside Story: Coming Home to Face the Music

Natalia makes her way back home to Springfield and meets up with Father Ray. She tells him that she realizes what she has to do and that God guided her to that decision. After her talk with Father Ray, Natalia talks to Blake, admitting her home is Springfield and says that her first stop is to see Olivia. When Father Ray asks Olivia if she has talked to Natalia, Olivia tells him that she's moving on in her life. Picking up Emma, Olivia takes her to the park. Natalia, who is still in search for Olivia spots her at the park and calls out to her. Stunned Olivia rushes to see Natalia face-to-face. Natalia tells her how sorry she is for making Olivia worry so much about her. Opening the car door, Natalia steps out to reveael to Olivia that she is pregnant. A floored Olivia tells Natalia that it was hard it was knowing she left. Natalia admits that Frank is the father, and while she is very happy about being pregnant, she knows that she wants to be with her. Olivia asks Daisy to watch Emma while Natalia and her go somewhere to talk. Shortly after, Matt runs into Natalia and sees her pregnant belly. She tells him that she wants to be the one to tell Frank about the pregnancy. Meanwhile an upset Olivia questions why Natalia was so willing to run away. Natalia admits that she was scared and needed to think things through. She tells assures her that she wants to be with her and raise the baby together. Olivia is hesitant to believe her and walks away. An upset Natalia decides it's time to call Frank and he agrees to see her. When he arrives he notices she's pregnant but doesn't put two and two together that the baby is his. He instantly offers congratulations and she replies that congratulations are in order for him to: he's the father of their baby. Frank, excited by the news tells Natalia he's going to be there for her and their baby. She deflats his happiness however when she announces that she wants to raise the baby with Oliva and him. Meanwhile, Olivia has barged into Josh's home demanding he make love to her. The two are in the moment when Olivia blurts out that she wants him to help her forget how much she is in love with Natalia. Josh pulls away and tells her he can't get mixed up in what's going on between them. Olivia leaves and finds herself bumping into Frank. Each learn that they both know about Natalia and both don't know what to do. Olivia admits she wants Natalia to have a stable place for her and the baby, tries to convince Frank to be there for her. Natalia, in the meantime, calls Rafe to tell him that she's home. When he arrives, she shares the news that she's having a baby. Rafe wants his mom to get back together with Frank and forgeet all about Olivia. Natalia tells Rafe that she's not going to do that and he gets upset and leaves. He runs into Olivia and he taunts her by saying that she'll be alone once his mom and Frank get back together. Frank finds an upset Natalia and invites her to come to Company with him. When they arrive, everyone there is glad to see Natalia back. Unable to contain his excitement, Frank announces the news. While everyone is initially shocked, they soon are offering up congratulations. After leaving Frank, Natalia is back at home on her porch thinking about her time with Olivia; while Olivia, who is taking a walk, is thinking of her moments with Natalia.
A Closer Look: Falling to Pieces
Locking her keys in her car, Reva calls Josh to help her. When he arrives he gets her car unlocked and she heads home. When she walks in the door she sees that her sink is broken, so she calls the plumber Blake uses. When the plumbed doesn't answer, Reva is hesitant to call Josh, but does so. The plumber arrives as Reva is leaving Josh a message. Once the plumbe is finished fixing the sink, Reva begins to write him a check and suddenly realizes that it's her one year anniversary to Jeffrey. Josh, upon receiving Reva's message, is on his way to her house. Reva, meanwhile, is surrounded by all of Jeffrey's pictures having a conversation with him as if he is truly there. Hearing Josh's car, Reva quickly comes out of the house. When he attemps to go into the house, she stops him telling him that she no longer needs his help with the sink. After he is gone, Reva returns back to the house and begins talking to the pictures again, letting 'Jeffrey' know that they can have their party. When Daisy comes to check on Reva, she's asked if she can keep an eye on Colin. She soon busies herself with creating a romantic picnic and putting on her wedding dress. As she's dancing she glances at herself in the mirror and freaks out, running out of the house into her car. When she sees Josh, she runs to him begging for his help. She sobs into his arms and he reluctantly tells her that she needs to try to help herself. Back at Reva's, Daisy and Ashlee stumble upon the shrine of photos and realize that Reva is off the deep end.
What To Watch
Lizzie is in search for her daughter
Phillip continues his search for a cure
Guiding Light News and Headlines
Kevin Collins appears as "Dr. Brandon" who examines Henry on Monday, August 24
Melissa Hayden will reprise her role as "Bridget Reardon" Monday, September 14
Morgan Englund reprises his role as "Dylan Lewis" Monday, September 14
Maureen Garrett comes back to Springfield as 'Holly Lindsey-Reade. She returns to the show Wednesday, August 26
Jay Hammer returns as "Fletcher" on
The Annual Rock Show for Charity, which benefits the American Red Cross, will take place on October 9, 2009 at the American Red Cross Greater New York Chapter Headquarters on West 49th Street. The evening begins with a pre-show mix-n-mingle followed by a rock-n-roll concert hosted by the Bradley Cole Band. The band will be joined on stage by guest performers and fellow castmates, Kim Zimmer (Reva Shayne), Mandy Bruno (Marina Cooper), Daniel Cosgrove (Bill Lewis), Tom Pelphrey (Jonathan Randall), Caitlin Van Zandt (Ashlee Wolfe), and Karla Mosley (Christina), as well as Ricky Paull Goldin (Jake Martin, All My Children) and Trent Dawson (Henry Coleman, As the World Turns). The first mix-n-mingle begins at 6:00 PM with showtime at 7:00 PM and the second mix-n-mingle is at 8:30 PM followed by a 9:30 PM show. Tickets available at Ticket Leap or by mail: Nomadic Music, Inc., P.O. Box 1852, New York, NY 10163.
Guiding Light will donate a portion of its wardrobe to New York's Bottomless Closet to help economically disadvantaged New York City women enter and succeed in the workforce. Guiding Light will provide the organization with the show's stock of women's business appropriate clothing, shoes, jewelry, handbags and accessories. Please visit Bottomless Closet or call 212-563-2499 for more detailed information.
Frank Dicopoulous ("Frank Cooper") will be the honorary chairperson for FAAN Walk for Food Allergy: Moving Toward a Cure in Long Beach, NJ on Saturday, September 12. Please visit FAAN for more detailed information.
Murray Bartlett ("Cyrus") and other daytime stars will set sail on Soap Cruise, the Third Voyage on Thursday, January 28 until Monday, February 1, 2010. Please visit Soap Cruise or call 1-888-381-4654 for more detailed information.
SON Top 10: Who was the best of the best on "GL" during the week of August 10, 2009? You decide! The SON Top 10 is back! Voting begins Friday's at 4:00 PM, EST.
SON ALERTS: WEEK OF AUGUST 24, 2009
Mallet makes a hard decision for the sake of Henry
"Guiding Light" airs Weekdays on CBS. Check local listings.
---
---
You may not reproduce content without written permission from author.

© 2009 Soap Opera Network. All rights reserved.
Discussion: GL PreVUE: Week of August 17 Edition