Sunday, August 16, 2009 3:50 AM ET | By Angela Rosa
---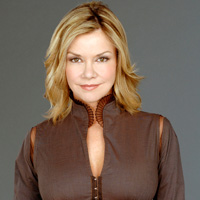 (SoapOperaNetwork.com) — The latest news on "AMC's" move to California.
After weeks of rumors, on the afternoon of Tuesday, August 4, the cast of ABC's "All My Children" were told by ABC Daytime President Brian Frons that the soap would be moving production to Los Angeles – ending its 39 year run of production in New York City. This week, in the New York Daily New and Soap Opera Digest, an ABC representative cleared up some important details about the move.
As previously reported, all of the contract actors on "AMC" have been given the option to move with the production of the show to Los Angeles or be let out of their contract should the big move conflict with their best interests. The initial report was that the actors were given just one week to make the decision. The actors were actually given the week of August 10 off to contemplate the move but an ABC representative reports that the actors have until September 8 to make their decision. The actors final decisions will be announced following that deadline. The ABC representative also confirms that many members of the cast have already made the decision to make the move; thanks to their Facebook entries, Soap Opera Network can confirm that Bobbie Eakes (Krystal Carey) and Shannon Kane (Natalia Fowler) are among those actors deciding to go left and remain with "AMC."
Rumors are swirling about who's not going to L.A., the list includes several of the soaps key players, but we won't know the facts for some time yet. The following is a list of the current contract players on "AMC" along with the first year they appeared on the soap:
Susan Lucci [Erica Kane, 1970]
Ray MacDonnell [Dr. Joe Martin, 1970]
James Mitchell [Palmer Cortlandt, 1979]
Darnell Williams [Jesse Hubbard, 1981]
Michael E. Knight [Tad Martin, 1982]
Debbi Morgan [Dr. Angela Hubbard, 1982]
David Canary [Adam & Stuart Chandler, 1983]
Vincent Irizarry [Dr. David Hayward, 1997]
Cameron Mathison [Ryan Lavery, 1998]
Alicia Minshew [Kendall Hart Slater, 2002]
Aiden Turner [Aidan Devane, 2002]
Jacob Young [J.R. Chandler, 2003]
Bobbie Eakes [Krystal Carey Hayward, 2003]
Thorsten Kaye [Zach Slater, 2004]
Chrishell Stause [Amanda Dillon Martin, 2005]
Melissa Claire Egan [Annie Lavery, 2006]
Cornelius Smith Jr. [Dr. Frankie Hubbard, 2007]
Ricky Paull Goldin [Dr. Jake Martin, 2008]
Brianne Moncrief [Colby Chandler, 2008]
Denise Vasi [Randi Morgan, 2008]
Beth Ehlers [Taylor Thompson, 2008]
Shannon Kane [Natalia Fowler, 2008]
J.R. Martinez [Brot Monroe, 2008]
Adam Mayfield [Scott Chandler, 2009]
Jamie Luner [Liza Colby, 2009]
Brittany Allen [Marissa Tasker, 2009]
Stephanie Gatschet [Madison North, 2009]
Production of "AMC" in New York City will cease after the Friday, December 11 work day.
"All My Children" airs Weekdays on ABC. Weeknights on SOAPnet. Check local listings.
---
All My Children
Susan Lucci
AMC
Shannon Kane
Los Angeles
New York City
LA
Bobbie Eakes