Monday, August 17, 2009 1:37 AM ET | By Venus Stone

---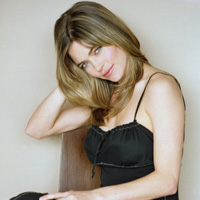 (SoapOperaNetwork.com) — Wandering eyes…
THIS WEEK ON: THE YOUNG AND THE RESTLESS
On Monday, August 17, Neil puts his foot down when Lily wants to move back with Cane. Kevin believes that he could have another sibling in Genoa City. Jack decides that he needs to do whatever he can to help Ashley get a grip on her sanity, Thursday, August 20.
The Inside Story: Wandering Hearts
Certain that Victor is behind Mary Jane's arrival, JT is determined to find out more to Victoria's displeasure. Things come to a head when the two of them get into another heated arguement; JT pointing out that she doesn't see how much like her father she is becoming. Victoria storms off and runs into Deacon at the Genoa City Athletic Club. There, Deacon talks to her about an art deal. Victoria quickly suggests that they go discuss it up in his suite and once there, she orders champagne. Things start to heat up when Victoria puts the moves on Deacon, kissing passionately. The two are ready to climb into bed when Amber, who is determined to get the goods on Deacon, stops by the suite and interrupts them, causing Victoria to make a hasty retreat. Meanwhile, JT, unaware that Victor is having him tailed, heads to see Colleen. The two begin talking about the good old days between them and Colleen impulsively kisses him. The spy that has tailed JT takes pictures of the two of them. Later that evening, JT and Victoria both realize that they are having problems in their marriage but Victoria decides to meet up with Deacon again and JT heads back to see Colleen.
A Closer Look: Between a Rock and a Hard Place
Determined to not let Daniel remain in jail, Amber decides to go crawling to Deacon for his help. When she arrives, she inadvertantly breaks up a hot moment between Victoria and him. Once alone, Amber pours on the charm in hopes to find something that can help Daniel. Deacon, wise to her, tells her that if she wants to get her ex out of jail, she's going to have to do a hell of a lot more for him that sweet talk him. Amber hesitantly asks what he's talking about and Deacon grins, telling her he wants her to marry him. Amber quickly shoots down his proposal and leaves, running into Daniel. She tells him that she's not giving up on helping him get out of jail, but Daniel wants her to stay away from him. Hurt by his rejection, Amber finds herself back at Deacon's suite and tells him she'll marry him on the condition he gets Daniel free of all charges.
What To Watch
Abby shows up at Colleen's as JT is leaving
Ryder, Deacon's cohort, begins to scheme against Kevin
The green eye monster comes out when Billy sees Chloe and Chance
The Young and the Restless News and Headlines
Jerry Douglas reprises his role as the ghost of "John Abbott" on Thursday, August 20 where he has some 'sound' advice for Jack
Raya Meddine appears as "Sabrina" Thursday, August 20
Michael James Reed appears as "Agent Nolan Grimes" Thursday, August 20.
Laura Saltman, correspondant for Access Hollywood will come to the show in a cameo appearance as gossip columnist, "Sonia Wells" who wants to get the scoop on Phyllis and Nick. Her appearance is Monday, August 24
Christian Jules LeBlanc and Jeanne Cooper, who play "Michael Baldwin" and "Katherine Chancellor" will make a cameo appearance on "Guiding Light" in its final episode. No word yet on who they will be playing in the final episode.
On Friday, August 28, 2009, The Young and the Restless Fan Club Dinner will be held at the Sheraton Universal Hotel in Universal City, California from 6pm to 11pm. Fans will get the chance to get up close and personal with their favorite Genoa City residents. Pictures and autographs will be available along with some very special surprises planned for the evening. Tickets are available on a limited basis only so it is important to order now. The cost per person is $170. which includes dinner, tip, tax, photo autograph book and much more. The deadline is August 21st, 2009. Please visit Young and the Restless Fan Club Dinner for more detailed information.
SON Top 10: Who was the best of the best on "Y&R" during the week of August 10, 2009? You decide! The SON Top 10 is back! Voting begins Friday's at 4:00 PM, EST.
SON ALERTS: WEEK OF AUGUST 24, 2009
Phyllis has a reason to be suspicious of Sharon
Mary Jane takes Paul hostage
Lily learns that she was wrong about putting her faith in Cane
Ashley and Adam put their heads together
"The Young and the Restless" airs Weekdays on CBS. Weeknights on SOAPnet. Check local listings.
---
---
You may not reproduce content without written permission from author.

© 2009 Soap Opera Network. All rights reserved.
Discussion: Y&R PreVUE: Week of August 17 Edition
---