Friday, July 10, 2009 8:00 AM ET |
By Scotty Gore
---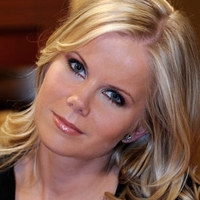 (SoapOperaNetwork.com) — Pick your poison.
THIS WEEK ON: ONE LIFE TO LIVE (with updated dates due to the pre-emption on Tuesday, July 7th)
Brody and Jessica are pleased to learn that he has been accepted into the police academy on Tuesday, July 14. Ernesto kicks Markko out on the street when he refuses to stay away from Langston. Kyle's comments pertaining to Fish trouble Cristian, who returns home just as Fish and Layla are getting closer. Later, Téa urges Cristian to tell Layla what he has learned about Fish, when he confides in her. While helping her get settled at the police station on her first day as John's assistant, Fish and Layla agree to keep their relationship a secret from their co-workers on Wednesday, July 15. After spotting Layla lip-locking with Fish, Cristian walks away without saying a single word. Starr and Cole accept Jessica's apology for putting them both through hell.  Jessica is hesitant to hold baby Hope again. Bo and Nora remain in the dog house with Matthew. Clint and Bo have a major blow-up over Matthew, but it's soon clear that they are really fighting over Nora on Thursday, July 16. Greg announces to a somber Destiny that he's leaving town. Destiny tries to reach Matthew. By Friday, July 17, following a conversation with Rachel, Greg announces to Destiny and Shaun that he has decided to hang around Llanview for the time being. And Destiny gets an idea on how she may be able to help Matthew.
The Inside Story: What Goes Around, Comes Around
Shane is delighted to have his parents back together. After sharing the truth with the lad about his evil aunt, Gigi and Rex tell Shane that his help is needed to bring Stacy down. Furthermore, Rex decides that Gigi can't handle the truth, convincing her that he did not sleep with her sister. The news that Rex lied about his tryst with Stacy doesn't set well with Schuyler. Across town, Roxy's visit irks Stacy.  Roxy remains oblivious to the fact that the person she tried to kill is, in fact, very much alive on Monday, July 13. Brody learns of the plot to rid Rex and Gigi of Stacy. Rex and Shane go into panic mode to salvage their plan when Stacy returns home unexpectedly. Meanwhile, Gigi picks up a recently returned Michael just as Stacy, thinking something funky maybe going on, insists that she and Rex take Shane to the hospital on Tuesday, July 14. Rex, Gigi, Shane, and Michael manage to pull the wool over Stacy's eyes on Wednesday, July 15. When Dr. McBain claims Shane is suffering a relapse, Rex urges Stacy to save his son's life once more with her magic stem cells, thus baiting her to fall into his trap. Stacy grows distraught when Michael informs her that Shane needs her stem cells now. Rex sees Stacy with her guard down when she questions his feelings for her on Thursday, July 16. Just as Shane and Gigi contemplate a life without Stacy in it, the evildoer takes the bait and succumbs to Rex's lies. When she grabs the spare stem cells she hid in a special cold storage facility, Rex catches her red-handed. By Friday, July 17, Rex is in no mood for small talk as he rips the bag from Stacy's grasp. Cracking under the pressure when Rex tells her she nuts if she thinks they can be together, Stacy looses touch with reality, and refuses to accept the obvious.
A Closer Look: Old Habits Are Hard to Break
Téa's arrival puts a damper on Todd and Blair's family breakfast with the kids. Adding fuel to the fire, Téa plants a juicy kiss on Todd's lips, in full view of Blair. To level the playing field, Blair decides to hire a muscular swimming instructor to teach Sam how to stay afloat on Tuesday, July 14. During the boy's swim lesson, Blair flirts with the guy in an attempt to make Todd jealous. Later, after accusing one another of being jealous of the other (duh!), Todd and Blair give in to their pent up sexual lust, which Téa interrupts on Wednesday, July 15. A disbelieving Téa rips Todd up one side and down the other. Trying to patronize her, Todd attempts to downplay the situation. However, Téa refuses to listen to what he has to say. Considering it poetic justice, Blair sits back and enjoys the show, doing little to bail out Todd. As Téa storms off, Todd decides that he is not letting her go that easily. On Friday, July 17, the revelation that Blair hit the sheets with Todd leaves Dorian nauseous. Spouting wise words like a Chinese fortune cookie, Dorian states that, while Blair no longer wants Todd, she also doesn't want any other woman to have him either. At the same time, Téa packs heat as she vents her frustrations at a picture of the slimeball that is Todd Manning at the firing range. She is soon joined by John, however both are miserable. Marty and John try to pick up where they left off the night of Cole's arrest, and are drawn into a kiss on Tuesday, July 14. However, they are unable to go further when Marty's memories of her time with Todd kill the mood. Pulling her into a friendly hug, John assures Marty that he can wait until she is ready to be intimate with him again. Marty confronts Todd, blaming him for sabotaging her relationships with men by making her afraid to open up her heart. Cole tries to ease Starr's fears about his going undercover to bust up Llanview's drug ring. Despite her reservations, Rachel agrees to assist Cole.
One Life to Live News and Headlines
OLTL ALERTS: WEEK OF JULY 20, 2009
The rehearsal dinner for the double wedding of Viki/Charlie and Clint/Nora gets underway. (Soap Opera Weekly)
Jessica can't believe who, or what, she is seeing. (National Enquirer)
Bo and Nora are taken aback by Matthew's actions. (Canadian Cable Guide)
"One Life to Live" airs Weekdays on ABC. Weeknights on SOAPnet. Check local listings.
---
Discussion: OLTL PreVUE: Week of July 13 Edition

---
One Life to Live
SOAPnet
ABC
OLTL
Soap Opera Network
Soaps
Soap Operas
Crystal Hunt
Spoilers
Previews