Friday, July 24, 2009 8:00 AM ET | By Angela Rosa
---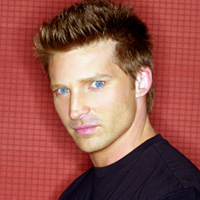 (SoapOperaNetwork.com) — Mission Impossible.
THIS WEEK ON: GENERAL HOSPITAL
On Tuesday, July 28, Johnny learns that Olivia has known about his sister's role in Michael's shooting for months. Edward keeps Nikolas away from Rebecca. Rebecca rebuffs Ethan. Nikolas arrives at the police station after Edward and Rebecca are arrested due to Michael's shenanigans on Wednesday, July 29. Lulu suggests that Maxie just be honest with Spinelli about her feelings. On Thursday, July 30, Lulu and Maxie work together to derail Spinelli's plan to ask Mac for Maxie's hand in marriage. Carly observes the sparks between Sonny and Olivia. Ethan and Lucky realize they have something in common on Friday, July 31 – their desire to keep Dominic away from their sister.
The Inside Story: Runaway Train
A grief-stricken Claudia vows revenge on the driver responsible for the crash that killed her child. Sam tries to get Alexis to see what's right in front of her. Alexis is taken aback when she realizes Sam thinks Kristina may have caused Claudia's accident. Jason enlists Robin's help with Mac. Jason takes Michael back to the Quartermaine's after Mac agrees to release him on bail. Jax's efforts to keep Carly calm go out the window when she turns on the news and learns that Michael has been arrested. Carly is sure Michael is innocent, but an angry Sonny is of the opposite opinion on Monday, July 27. Michael breaks down. Sonny instantly regrets his harsh words to Michael. Michael decides he has to run away to protect his family. Carly accuses Alexis of causing Claudia's accident and framing Michael. Claudia wants Michael to pay but decides to play along when Carly insists Michael is innocent on Tuesday, July 28. Jason and Sam are more convinced than ever that Kristina is the true culprit. Sam faces Alexis' wrath with her claim about Kristina. Jason and Sam realize Michael and Kristina have gone on the lamb together after Morgan shows Jason the e-mail he received. Alexis blames Michael for Kristina's troubles and tells Mac to issue an APB on him. An angry Alexis tells Jax and Carly the latest developments on Wednesday, July 29. Sam and Jason hit a road block while following Kristina and Michael's trail. Kristina is haunted by the fact that she may have caused Claudia accident but stops short of confiding in Michael. Jax tries to appease Carly by arranging for Mac to inspect Alexis' car. Sonny and Carly agree that they're both to blame for what's happened to Michael. Alexis makes a shocking confession on Thursday, July 30. Claudia contacts an old associate with ominous plans for Michael in mind. Jax is wary of Alexis' confession. Jax and Carly realize what's really going on. Alexis confides in Diane. Jason and Sam find Michael's car but see no other sign of Michael and Kristina on Friday, July 31. Unfortunately for the kids, Jerry is closing in on them.
General Hospital News and Headlines:
GH ALERTS: WEEK OF AUGUST 3, 2009
"General Hospital" airs Weekdays on ABC. Weeknights on SOAPnet. Check local listings.
---