Wednesday, June 3, 2009 1:35 AM ET |
By Scotty Gore
---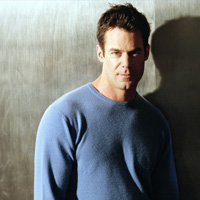 (SoapOperaNetwork.com) — As we prepare to head into the lazy days of summer, here are a few casting tidbits for "One Life to Live."
Is Tuc Watkins headed back to Llanview for another of his signature brief stints as David Vickers Buchanan on the ABC soap?  While not yet confirmed by either the soap or the network, several media outlets are reporting that the popular daytime actor will show up in Llanview at some point this summer and will interact with several familiar Llanview residents.  Among them are paw Bo (Robert S. Woods), little brother Matthew (Eddie Alderson), former stepmother Nora (Hillary B. Smith), best friend Viki (Erika Slezak), and estranged wife Dorian (Robin Strasser), each in their respective storylines.  Hmmm…wonder if that means he will also interact with uncle Clint (Jerry VerDorn), step-grandmother Renee (Patricia Elliott), and trusted family servant Nigel (Peter Bartlett)?  SON will keep you posted on the details. 
A first airdate has been announced for Catherine Hickland's return to "One Life to Live."  Look for Hickland's on-air persona Lindsay Rappaport to potentially throw a monkey wrench into Clint and Nora's engagment beginning Friday, June 9th, according to Toby Goldstein of Tribune Media Sevice's The Soap Scene. On her Twitter page, Hickland alerted fans last Friday that she was "Back in New York City! Just read the scripts for ONE LIFE TO LIVE for next week. My scripts are GOOD! Hallelujah!" The actress also commented that it will be difficult for Lindasy to cause too much trouble considering that she was still incarcerated in Statesville Prison, and that she would be posting her upcoming "OLTL" airdates as soon as they were available. 
With the baby Chloe/Hope storyline beginning to draw to a close, viewers may be left wondering what the future holds for Tess, Maddie, and Molly Sullivan, the triplets who portray Starr Manning's (Kristen Alderson) adorable baby girl.  Well wonder no more.  Alderson posted a picture Tuesday on her Twitter page of her holding one of the three infants who portray her alter ego's daughter.  Since "OLTL" regularly tapes approximately 4-6 weeks in advance, look for these scenes sometime in July.  In addition, Alderson also used her Twitter page to dispel rumors that she may soon be leaving Llanview by commenting that she was "def. not leaving one life. they would have to throw me out haha"
TVGuide Canada is reporting that "a major star from the past will be returning to the soap ['OLTL'] this fall."
Dayplayer soap actor Matt Drago will be popping up again soon in Llanview.  The actor, whose previous appearance in the fictional soap town was as a Rodi's parton, proves that he likes variety by taping scenes as a Buenos Dias Cafe Patron for episode #10,469, which should air around July 1st.  Earlier this year Drago portrayed a Company Patron in two episodes of "Guiding Light," and a Boyfriend in a 2005 episode of "As the World Turns." 
Erin Torpey (ex-Jessica Buchanan) married finance Hamilton von Watts (of the TBS comedy "10 Items of Less") on April 18th on a California beach in front of the Malibu Beach Inn.  To see exclusive photos from before, during, and after the ceremony, click here.  
And Renee Elise Goldsberry (ex-Evangeline Williamson) gave birth to her first child, a son named Benjamin, on May 19th. According to a family spokesperson, "Both mom and baby are doing great. Their family is overjoyed, and they are praising God for this perfect miracle. Renee thanks all of you for your support and constant encouragement. In lieu of cards or gifts, she asks for your continued prayers and well wishes. They truly work wonders because Benjamin is a dream come true!"
In other news…
Several new casting calls have been released in recent days for "One Life to Live."  Among them is one for the role of "Ford."  Remember that the soap frequently switches character names in these scripts to confuse viewers.  As the scene opens, "Ford apparently plants herself on "Nancy's" doorstep with a camera crew, prompting Nancy to ask if ther are on the air at that very moment. Ford informs Nancy that she hopes that they can do a reality show together called "The Real Ladies of Llanview," which does not appear to be greenlighted as of yet by the network.  Nancy, however, has no idea what exactly Ford is talking about.  After confronting her, Ford tells her that a pilot for the show is being filmed, and that the network has decided to go live for the season finale.  Ford goes on to tell Nancy that she wants to make her the star of the show.  Having her doubts however, Nancy accuses Ford of only wanting to exploit her and her family for her own benefit.  Ford assures her that it will be nothing more than a camera crew following Nancy and her family around and recording their everyday activities.  Nancy fires back that she will not allow her family to become a laughingstock and that the concept has the network's fingerprints all over it.  Afterward, she abruptly kicks Ford to the curb as the scene draws to a close. 
Other recently released audition scripts include a "Rabbi," who may or may not be marrying Nora and Clint; "Elijah Kent," who is a new Llanview lawyer, and for the role of "Summer."  SON will bring you more details of these casting calls as they become available. 
And, in things that make you go hmmm…, here are a few Twitter Tweets from the "OLTL" cast.  On May 29th, Kassie DePaiva reported that she was "Working at Oltl… Doing fun Manning mania." Also, she announced that ABC Daytime will be in Nashville later this month at the hosting a Block Party on the same day that the "Divas of Daytime TV" (DePaiva, along with Bobbie Eakes and Kathy Brier) will performing at the CMA MusicFest.  And that she shot new SOAPnet promos on May 20th, and filmed on May 15th and 20th. 
Scott Clifton tweeted that he filmed some shirtless scenes on May 21st, and on May 14th that "I'm being taken downtown in a fancy Lincoln for a "music video" promo for ABC. I have to sing a Grease song. I WILL suck at this."
And Daphnée Duplaix revealed in a message to a fan on her Facebook page that "OLTL" had recently shot footage of her (and presumably other recently added contract cast members) for an updated opening sequence that she stated should air sometime later this month. 
"One Life to Live" airs weekdays on ABC. Weeknights on SOAPnet. Check local listings.
---
Discussion:
'One Life' Summer Casting Notes
---