Friday, June 26, 2009 8:00 AM ET | By Scotty Gore
---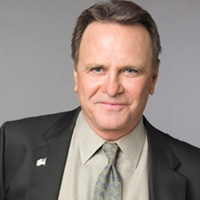 (SoapOperaNetwork.com) — If you can't be with the one you love, then love the one you're with.
THIS WEEK ON: ONE LIFE TO LIVE
Clint suprises Bo by asking his brother to be his best man on Tuesday, June 30. Greg's web of lies to little sister Destiny continue when he cancels their dinner plans. Pretending to be examining Matthew's case file, he is actually out on a date with his new associate, Dr. Wright. Later, Shaun blasts Greg for disappointing Destiny. Meanwhile, Matthew and Destiny enjoy the evening together. After finding comfort in Brody's arms, he and Jessica spend the night together on Wednesday, July 1. Fish encounters Kyle when he arrives early for his date with Layla at Capricorn. Blair supects Cristian has the hots for Layla. Natalie and Jared find time for a little lovin', and Jessica encourges Brody to apply to the police academy.
July 3rd Encore Episode: 'No One Ever Said it Would be This Hard' (original airdate 03/18/09)
Nora confronts Marty, who takes responsibilty for neglecting her son when he needed her the most. Seeing the error of her ways, Nora also accepts blame for the tragic turn of events. As both mothers grieve for their sons, they find solace in a hug. Meanwhile, Cole's guilt grows when Matthew confesses that he doesn't blame his friend for the accident that paraylzed him. When Cole questions his motives, Matthew responds that he too could have made better choices than what he did. As Cole is led away in handcuffs, Jack forces Todd to stand up and be a real father to him, Starr, and Sam. Téa confesses to John that she didn't stab Lee Halpern and is confident that Todd is innocent of the crime as well. John accusses Téa of still being in love with Todd, to which she neither confirms nor denies the allegation. At the same time, Todd hires a new attorney as he prepares to fight for his kids. Gigi thanks Brody for his continued support. And Bo and Rex comfort each other as they discuss Shane and Matthew's health issues.
The Inside Story: I Want Your Blood
Stacy interrupts the conversation just as Gigi asks Rex if he understands just how evil Stacy really is on Monday, June 29. Not sure what to expect, she is speechless when Rex proclaims his love for Stacy. As Gigi runs away to Rodi's in tears, Stacy is surprised to learn that Rex failed to mention their tryst to her. Later, however, Rex shows up on Gigi's doorstep, where he plants a kiss on her. Meanwhile, Natalie and Jared are intent on making sure Kyle follows through with his end of the bargin. Even though he swears he has no idea who the donor is, Kyle assures them that the person can be found in Room 302 at the Boutet Clinic. At the same time, Roxy's day just keeps getting worse when she is confronted by Nurse Gayle Collins at the clinic. In the heat of battle, Gayle swipes the bag of blood Roxy was saving in case of an emergency on Monday, June 29. Tempers flare futher when nurse nasty accuses Roxy of turning off the patient's life support system. As Natalie, Jared, and Kyle arrive on the scene, Gayle hightails it out of the clinic with the bag of blood in tow. Shortly thereafter, Natalie and Jared approach Roxy after Kyle informs them that she was in possession of the extra supply of blood on Tuesday, June 30. Back at the cottage house, Rex explains his actions to a confused Gigi. As he is about to reveal that he slept with Stacy, Natalie and Jared arrive with disappointing news. Rex and Gigi are devastated to learn that, should Shane suffer a relapse, they would need to search for yet another donor. Moe minces no words when he informs Stacy that Rex's heart will always belong to Gigi. Later, Stacy is puzzled when Gayle hands her the extra bag of blood, and claims that her new boss is on her side on Wednesday, July 1. Despite her protests, Rex makes it clear to Gigi that he must fake it with Stacy until he can figure out who the real donor is. After unsuccessfully searching his apartment for the missing evidence, Rex keeps Stacy at arm's length when she starts feeling frisky.
A Closer Look: Wearing Your Heart on Your Sleeve
John states to Bo that he will return to the police force on the condition that he allows Cole to go undercover to help bust up a drug ring, instead of serving jail time. When Todd shows his true colors by refusing to sign the consent form, Starr reminds her father of the emotional plea he made at Hope's 'grave' on Monday, June 29. Seeing little harm in giving his daugther what she wants (since the groom is going to jail anyway), Todd gives in. By Wednesday, July 1, Todd confesses to Téa that his feelings for her are real, but that he is unable to put them into words. Despite their recent bickering, Todd and Téa soon end up in bed together. Langston assists Starr in her wedding preparations, while Marty gives Cole her wedding ring. Addie listens as Blair explains why Todd spending the night with Téa troubles her on Thursday, July 2. In an action that will surely make Blair's blood boil, Todd asks Téa to escort him to Starr and Cole's wedding. John faces the difficult task of convincing a judge to see his point-of-view regarding Cole. Dorian and Markko have their work cut out for them as they each desperately try to persuade unwilling participants to attend a dinner party at La Boulaie.
One Life to Live News and Headlines
OLTL ALERTS: WEEK OF JULY 6, 2009
Blair nearly blows her top when Téa arrives at Starr and Cole's wedding. (Cable Guide)
Cole eases Starr's concerns. (Cable Guide)
John interrupts the ceremony with big news. (Cable Guide)
Starr and Cole's walk down the aisle doesn't go quite as expected. (Soap Opera Weekly)
"One Life to Live" airs Weekdays on ABC. Weeknights on SOAPnet. Check local listings.
---
Discussion: OLTL PreVUE: Week of June 29 Edition
---