Friday, June 26, 2009 8:00 AM ET |
By Angela Rosa
---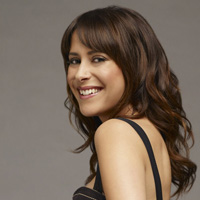 (SoapOperaNetwork.com) — Making adjustments.
THIS WEEK ON: GENERAL HOSPITAL
Alexis faces Kristina's wrath in the wake of the Mayor's reveal. Diane proves to be a good friend to Alexis on Wednesday, July 1. Kristina accuses Alexis of being a hypocrite for having slept with a married man. Dominic turns to Kristina for an assist after Johnny refuses to help him get a foot into Sonny's organization. Robin admits to Alexis that she doesn't believe the Mayor is guilty of murder but comes to a different conclusion about the Mayor's wife on Thursday, July 2. Spinelli fights off Maxie's advances convinced that their love-making can lead to nothing good. Maxie is not a fan of Spinelli's idea of a slow and chaste courtship on Tuesday, June 30. Coleman turns to Spinelli and Maxie for ideas on how to turn the financial tide at Jake's. After a rehearsal in the shower, Spinelli realizes his singing voice could prove to be a major hindrance to his plans to serenade his love at Jake's first Karaoke night. "General Hospital" airs an encore presentation on Friday, July 3.
The Inside Story: Relocation Program
A seething Carly is forced to see Jason's point on why she can't take Sonny's gift away from Michael. Jason explains to Edward why he can't accept his offer to join Michael in relocating to the mansion. Carly and Jason face-off with Sonny about Michael's living arrangements on Tuesday, June 30. Jax tries to blackmail Claudia into convincing Sonny to abide by Carly's wishes for Michael. Carly walks in as Claudia spells out to Jax why she doesn't have to do his bidding. Sonny finally listens to reason, which doesn't go over well with a pissed off Michael. Michael accuses Sonny and Jason of being under Carly's thumb. The situation remains tense when Jason drops Michael off at the Q's on Wednesday, July 1. Edward is putty in Michael's hands. Carly is horrified to learn that Edward let Michael take Morgan for a spin in his new car.
A Closer Look: Love, Deception & Jealousy
On Monday, June 29, Rebecca treats Nikolas to her idea of a fun evening: a night of watching horror flicks! A nervous Rebecca spots Ethan watching her and Nikolas. Ethan presses Rebecca to remember that Nikolas is their mark. Rebecca pulls Ethan into a kiss in an effort to prove that her loyalty is to him. Ethan seethes when Rebecca chooses staying with Nikolas over leaving with him. On Tuesday, June 30, a drunken Ethan becomes a little too talkative around Elizabeth. Nikolas convinces Rebecca to move into Wyndemere. Rebecca makes a hasty retreat when Ethan calls demanding a meeting or else! Ethan accuses Rebecca of wanting Nikolas. Rebecca is clearly conflicted despite her insistence to Ethan that the con is still on. Lulu and Nikolas are convinced Rebecca and Ethan are both just misunderstood.
General Hospital News and Headlines:
GH ALERTS: WEEK OF JULY 6, 2009
"General Hospital" airs Weekdays on ABC. Weeknights on SOAPnet. Check local listings.
---