Friday, June 12, 2009 8:00 AM ET |
By Scotty Gore
---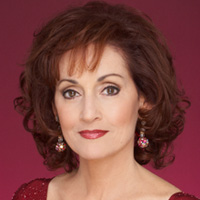 (SoapOperaNetwork.com) — Everybody plays the fool.
THIS WEEK ON: ONE LIFE TO LIVE
Drunk and alone, Dorian crashes Markko's graduation party. Suffering from a case of verbal diarrhea, she reveals that Langston and Markko recently lost their virginity, much to the horror of Markko's parents. And, as if that weren't enough, Dorian's rant continues as she throws Moe and Noelle to the curb, and fires Shaun. To shut her up, Langston pushes Dorian into the pool on Monday, June 15. The damage is already been done however, as Markko's parents forbid him from having any contact with Langston whatsoever. Shaun is afraid that Destiny may be giving Matthew false hope on Tuesday, June 16. As Matthew confides his feelings about Nora and Clint's engagement to Destiny, Shaun takes Rachel by surprise with a kiss. Following their talk, Destiny convinces Matthew to showcase his talents on the piano at the community center concert, as his proud parents watch from the audience on Wednesday, June 17. Bo cautions Rex to take things slow with Stacy, as the pair draw closer. Elsewhere, Stacy suggests to Schuyler that it would be best if he would drop his quest to expose her lies. Ignoring her advice, Schuyler informs a happy Gigi that he has obtained proof that Stacy didn't save her son's life on Wednesday, June 17. However, Gigi understands that she can't expose Stacy's deceit until learning the identity of the real bone marrow donor. In an attempt to gain information, Gigi unsuccessfully seduces Kyle. On Friday, June 19, Kyle is ready to make a deal with Gigi. After reminding him that Gigi has moved on with her life, a scantily clad Stacy and Rex sneak into the Llanview Country Club. Stacy's swimsuit turns Rex on. Schuyler suspects Roxy knows more than she's saying. Rex and Stacy are thrown out of the country club. Markko stands up to his father, and make plans to put together the money he needs to move out. At the same time, Langston orders Dorian to apologize to Markko's parents for her actions. Layla notices the tension between Kyle and Fish. After Layla accepts Fish's offer to go out on a date, Cristian doesn't like the idea of two of them together.
The Inside Story: Not the Mama
During a rather moving speech, Marcie reveals to Starr just how much she thinks the teen has matured since her baby's birth. As Marcie confesses to Starr that she is now ready to be a mother to her baby, a vengeful Asher offers Cole some pills on Monday, June 15. Despite being tempted, however, Cole decides not to revert his old habits. Unfortunately, a police officer strolls by at the exact moment he decides to throw the bottle of pills into the Llantano River. Despite his objections, Cole is arrested for drug possession on Tuesday, June 16. Even though his loved ones believe his story, they find themselves unable to help Cole out of his current predicament. Across town, Starr thrilled to have her baby back, and can't wait to share her joy with Cole. When she calls him with the good news, Cole is less than truthful about what has happened to him. Meanwhile, Michael informs Marcie that he has been offered a job in Seattle on Tuesday, June 16. Langston boosts Starr's confidence upon stating that she will be a great mother to Hope. Back in court, the judge sentences Cole to time behind bars, however, Nora manages to get the length of his sentence reduced. Afterward, Cole stands firm and accepts his punishment on Wednesday, June 17. Even as he visits with Starr and Hope, Cole keeps mum about his drug arrest. In the end, however, he decides to confess all to Starr. By Friday, June 19, Cole makes an unexpected move after Starr assures him that she and their baby will be waiting for him when he gets out of prison. And Jessica is surrounded by her friends and loved ones at Chloe's funeral on Wednesday, June 17.
A Closer Look: Two's Company, Three's a Crowd
Téa's blood boils when she is forced to testify at Todd and Blair's custody hearing, realizing that the move could ruin her career. The truth is revealed in front of the courtroom, when both Blair and Téa admit that Todd is their one true love. Following the judge's ruling that Todd and Blair share custody, Téa is determined to settle the score with Todd on Monday, June 15. Despite her frustration, Téa agrees to spend more night in Todd's guest room. Meanwhile, Todd has a field day with Téa's courtroom confession. On Thursday, June 18, when Blair arrives on his doorstep, Todd reveals to Téa that the judge ordered them to live together with the children. Two's company, three's a crowd when Todd suggests to a suspicious Blair and Téa that all three should live under the same roof. The proposal results in an argument, which sends Todd running to Starr after Blair admits that she is keeping the baby. Alone, Téa has a few choice words for Blair on Friday, June 19.
One Life to Live News and Headlines
OLTL ALERTS: WEEK OF JUNE 22, 2009
Layla and Cristian don't see eye-to-eye concerning her relationship with Fish. (Soap Opera Digest)
Todd bowls Starr over with his new attitude. (Cable Guide)
Natalie gives Gigi an earful. (Cable Guide)
Stacy suffers a nervous breakdown. (Cable Guide)
"One Life to Live" airs Weekdays on ABC. Weeknights on SOAPnet. Check local listings.
---
Discussion:
OLTL PreVUE: Week of June 15 Edition
---