Thursday, June 11, 2009 10:23 PM ET |
By Errol Lewis
---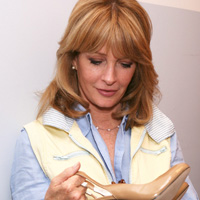 (SoapOperaNetwork.com) — Deidre Hall (ex-Marlena Evans, "Days of our Lives") to once again co-host online radio show "Hollywood CLOUT."
Fans of Deidre Hall take note, your favorite actress will be co-hosting Air America Radio's "Hollywood CLOUT" on Friday, June 12 with show host Richard Greene, when the two appear live from Chicago, Illinois.
"Hollywood CLOUT" is a national radio talk-show dedicated to "Pollywood," a combination of Hollywood celebrities, politics, social issues and activism. The show is regularly hosted by personality Richard Greene.
Hall has stood in for Greene several times over the past year, including her recent stint in April. In fact, Deidre started her career as a DJ in Florida.
"Hollywood CLOUT" airs Weeknights at 9:00 PM, ET/6:00 PM PT on Air America Radio or in select cities including New York, Los Angelas, Chicago and Detroi and streams live at www.airamerica.com. Check local listings.
---
Discussion: Deidre Hall Back on 'Hollywood CLOUT'
---
Deidre Hall
Hollywood CLOUT