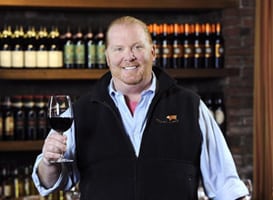 (SoapOperaNetwork.com) — Each week Entertainment Weekly puts together "The Bullseye," a gathering of images in which "pop culture news that was right on target" for the week comes together leading to the "events that missed the mark." For its October 7, 2011 issue, the magazine placed a "Bullseye" on "The Chew's" Mario Batali.
The caption read "You are no Susan Lucci."
In addition to the "Chew" piece, the star of primetime soap "Pan Am," Christina Ricci, received the largest notice from the magazine with the caption "No full-body scans, free food: Finally, flying is fun again."
"The Bullseye" appears on the last page of every issue of Weekly.
"The Chew" has experienced a ratings downward trend since debuting on Monday, September 26. "All My Children" aired its series finale on Friday, September 23 with some of its highest ratings in more than four years.