Friday, June 19, 2009 8:00 AM ET |
By Angela Rosa
---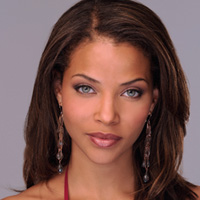 (SoapOperaNetwork.com) — Eye on the prize.
THIS WEEK ON: ALL MY CHILDREN
JR and Marissa's sharing of their inner-most feelings, on Monday, June 22, gives way to a tender kiss that sends JR running by the end of the week. In the face of Amanda's intensifying depression, Tad asks Liza to reconsider her plan to take the baby. An undeterred Liza grows concerned that Amanda will recognize the child after learning she actually held him. David invites Amanda to a memorial for their son and admits to her that he might have let her keep their little boy had he lived. Liza goes into action when it appears Amanda is going to reveal all at the service. Jake and Tad whisk Liza away to "give birth" but Amanda's arrival on the scene puts their plan in jeopardy on Friday, June 26. Krystal reaches out to David, who makes a heartbreaking request of Amanda. Despite major reservations about the state of their relationship, Brot proposes to Taylor on Thursday, June 25. Taylor confides her true feelings to Tad. Brot and Taylor both accept that their relationship is over.
The Inside Story: The Odd Couples
Annie tells Aidan that she no longer needs him now that she has Adam. More smitten than ever with his house-arrest guest, Adam dismisses Erica's warning to distance himself from the former Mrs. Lavery. Erica promises Ryan that Annie will not get her hands on Emma. Ryan tears into Liza for defending Annie. Annie seethes when Ryan tells her she'll never take Emma from him. Ryan and Erica conspire against Adam and Annie on Tuesday, June 23. Erica gets the opening she's looking for when Adam invites her and a guest to join him and Annie for dinner. On Wednesday, June 24, the petite diva arrives at the mansion with her dinner guest, Ryan. Annie can barely contain her rage as Erica pushes all of her buttons at dinner but manages to pretty much keep it together. Grateful for his support, Annie pulls Adam into a passionate kiss after Erica and Ryan leave. On Friday, June 26, Aidan gives Annie the means to remove her ankle monitor. It becomes clear that Aidan and Ryan are working together against Annie. Ryan looks on as Annie picks up a gun she finds in Adam's desk draw.
A Closer Look: Behind Closed Doors
On Monday, June 22, remembering the feelings they once shared, Randi returns to talk to North after initially taking off. Randi explains to a smitten North that she didn't run away with him when he asked her to years before because she felt she would have been his downfall. Randi tells an agitated North that she's married and asks him to forget he ever met her. In their effort to get dirt on the new D.A., Kendall arranges a meeting with North, while Zach targets the D.A.'s wife at the casino. Zach hits a nerve with Madison when he brings up her marriage. Kendall, meanwhile, manages to find a crack in North's cool and confident facade. Zach comes to believe the D.A. may have a history of violence. Kendall and Zach turn to Jesse for help on Wednesday, June 24. North wants Jesse to arrest Zach for his activities on the night of Stuart's murder. Randi runs into North after Frankie pushes her away again. North confides in Randi that she was the only person who ever saw any good in him and asks her to go away with him on Thursday, June 25. Frankie spots Randi and North together.
All My Children News and Headlines:
AMC ALERTS: WEEK OF JUNE 29, 2009
"All My Children" airs Weekdays on ABC. Weeknights on SOAPnet. Check local listings.
---