Friday, May 22, 2009 8:00 AM EST |
By Angela Rosa
---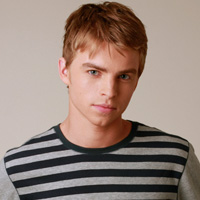 (SoapOperaNetwork.com) — The truth is…
THIS WEEK ON: GENERAL HOSPITAL
On Tuesday, May 26, Maxie tries to convince herself Spinelli is the right guy for her despite her attraction to Johnny. Claudia supplies Johnny with a gun to protect himself from Sonny. A threatening Sonny orders Johnny to stay away from Olivia. Johnny and Olivia continue their flirtation but agree to put things on hold as they both don't want to be together for the wrong reasons. Believing she's carrying his child, Ric asks Claudia to take off with him. Lucky and Elizabeth grow more suspicious of Rebecca. Elizabeth faces off with Rebecca on Wednesday, May 27. Rebecca places a cryptic call. Carly turns to Kelly for help (and proof) when an overly-cautious Jax refuses to be intimate with her for the baby's safety.
The Inside Story: The Heartbreaker
Edward clashes with Sonny and Carly. Michael has a major outburst and later confesses to Jason that he's troubled by the changes he sees in himself. Jason opens up to Michael about the experiences he went through after his accident. Carly tells a highly agitated Michael that he's going home with her. Jax pleads with Michael to give his mother a chance on Wednesday, May 27. Claudia subtly probes Michael to see if he remembers any of her visits. Michael learns that Sonny and Claudia are married. Michael turns to Jason for answers about his accident on Thursday, May 28. Jason later teams up with Sam to get the truth once and for all. Carly balks when Jax implies that it would be best for her to give Michael the room he needs…away from her, for now. Michael is clearly fond of Claudia. Carly is hurt when she overhears Michael's enthusiasm over Claudia's pregnancy. Sonny thinks Claudia could be just the medicine Michael needs. Jason and Sam track down Fredo. Fredo rats out Claudia to save himself.
A Closer Look: The Mother Hen
Robin and Patrick meet at a restaurant they had planned on meeting at once before after Robin is released from her in-patient treatment. Although their meeting is a bit strained, the duo are clearly still in love. Patrick watches on anxiously as Robin reaches out to pick up Emma after they arrive home. Robin has no trouble bonding with Emma on Wednesday, May 27 and is obviously thrilled to have her daughter in her arms. Patrick is ecstatic to have his family back. Holly shows up to confront Robin after learning she advised Ethan that his mother was more than likely being dishonest with him when she told him that Robert is his father. Holly's conscience takes over and she heads to the Haunted Starr where she finally tells Luke and Ethan the truth on Friday, May 29.
General Hospital News and Headlines:
GH ALERTS: WEEK OF JUNE 1, 2009
"General Hospital" airs Weekdays on ABC. Weeknights on SOAPnet. Check local listings.
---