Sunday, March 29, 2009 11:43 AM ET |
By Venus Stone
---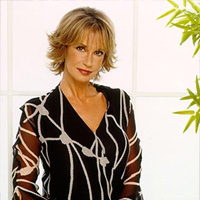 (SoapOperaNetwork.com) — Who's your mama…
THIS WEEK ON: THE YOUNG AND THE RESTLESS
Amber comes to the realization that something is seriously wrong with Kevin on Wednesday, April 1. Victor gives Adam something to think about when his words make an impact on Thursday, April 2.
The Inside Story: Unrelated
After Katherine stuns Jill with the news that they are not mother and daughter, Jill lashes out accusing Kay of pulling out another con job. Katherine, tired of Jill's turning of a blind eye to the fact that all three tests were legitimate, leaves. Shortly after, Nikki arrives at Jill's office and snaps into her about her constant doubts. Jill sneers at her that she will never believe the DNA test is correct. Nikki hits a nerve when she tells Jill that she doesn't even know who she belongs to and that if she feels the need to be right, to choose a lab of her own to conduct the test. Without realizing it Jill blurts out that Nikki best contact Brock to return to Genoa City to coduct a final DNA test. Taking her advice, Nikki does exactly that and calls Brock with the news that Katherine is still alive and is needed back home. Afterwards she shares the news with Katherine who instantly begins to worry but Nikki assures her that Brock will know who she is. As the women are talking, Katherine admits that she has grown to love Jill as her 'daughter'. Meanwhile, Brock who is at the coffeehouse meets with Nikki who asks him if he's ready to see Katherine. When they head to Murphy's trailer Brock is overcome with emotions and hugs his mother. Katherine, happy to have someone else believe her, tells Brock about her memory lapses. A concerned Brock tells Katherine that she should be tested for Lyme Disease. Still with Katherine, Brock calls Jill to persuade her to come see Kay but she furiously refuses. Later that day, Katherine, who is at the doctor's office for her tests gets the confirmation that she in fact does have Lyme Disease. Jill, having second thoughts shows up at the trailer and Katherine is stunned to see her. Things start off cordially between the two women until Katherine tells her about her diagnosis. Jill quickly points the finger at Katherine telling her that it's nothing more than another con. Fed up with Jill's accusations, Katherine tears into her and midway through her tongue lashing Jill realizes that she truly is Katherine. Unable to handle the truth it becomes Jill's turn to lash out warning Katherine to stay away from Billy and Chloe's wedding. Katherine dismisses her warnings and tells her that she will be attending that wedding whether she likes it or not.
A Closer Look: Cold Feet

Billy begins to feel the wedding day blues when he begins to question if marrying Chloe is the right thng to do. Before he can make any decisions Chloe and Esther inform him that the wedding should be held at the Chancellor Estate, to which Billy goes along with. As Chloe is making wedding plans, Colleen approaches her and lets her know that even if Billy does marry her, he will never be in love with her. Not phased Chloe tells Colleen that she will have a family for her daughter. Meanwhile, Jack puts his two cents in at the rehearsal dinner when he persuades Sharon to be the matron of honor. Meanwhile on the eve of his wedding a nervous Billy heads to a bar to calm his nerves. While there, he finds himself coming face-to-face with Sharon.
What To Watch
Cane won't take Lily's no for an answer
Amber is forced to do what Kevin wants
Phyllis and Nick go another round about the ex
The cake begins the fly between Kay and Jill
The Young and the Restless News and Headlines
Brian Cousins plays Detective Sloan, who's on the hunt for Kevin Fisher, Tuesday, March 31
Roscoe Born will come back to Genoa City to terroize Kevin as the Ghost of Tom, Tuesday March, 31
Scott L. Scwartz comes to the show,Monday, March 30 as Amos Slaughter
As previously mentioned on SON, Tom Casiello has joined the writing team of Y&R. His first scenes begin airing April 20 and April 28, May 12 and May 19.
Clementine Ford will be soon joining the cast as Mackenzie 'Mac' Browning beginning April 1.
Beau Kazer returns as 'Brock Reynolds' Katherine's son,Wednesday April 1 to prove that Katherine is very much the real deal
Fans can 'get restless' by participating in the Get Restless in Jamaica Sweepstakes. A fan could win their chance of a lifetime to have a 4 day/3 night vacation. Those interested can visit Get Restless in Jamaica
Y&R' made the pages of the current issues of Soap Opera Digest in 'Thumbs Up & Down' regarding the excellent work of having history mixed in the storylines of Katherine and Kevin Also featured in the issue is Jess Walton discussing her hairstyle trends in Buzz Cut.
Daniel Goddard will give fans an opportunity to see him Saturday May 9 at the Georgetown Market Place located at 289 Guelp Street in Georgetown, Ontario and the OLG Casino Brantford, located 40 Icomm Drive at Brantford, Ontario The Georgetown event begins at 11AM, while the Brantford event starts at 2:30 PM Those interested in attending please keep in mind that the casino event is for those 19 years of age and over. For more information, please go to Soap Opera Mania on Tour
SON Top 10: Who was the best of the best on "Y&R" during the week of March 23 – 27, 2009? You decide! The SON Top 10 is back! Voting begins Friday's at 4:00 PM, EST.
SON ALERTS: WEEK OF APRIL 6, 2009
Karen gets more information regarding Neil and Tyra.
Nick has had his fill of Phyllis.
Victor begins the next phase of his revenge.
"The Young and the Restless" airs Weekdays on CBS. Weeknights on SOAPnet. Check local listings .
---
You may not reproduce content without written permission from author.

© 2009 Soap Opera Network. All rights reserved.
Discussion: Y&R PreVUE: Week of March 30 Edition
---