Tuesday, February 10, 2009 12:43 AM EST |
By Scotty Gore
---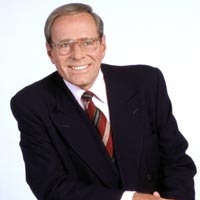 (SoapOperaNetwork.com) — "One Life" mourns the death of Phil Carey.
Only days after losing long-time cast member Clint Ritchie (ex-Clint Buchanan) following heart surgery, the "One Life to Live" family is hit with yet another shocking loss. On February 6th, Phil Carey lost his hard fought three-year battle with lung cancer. He was 83-years-old.
Phil Carey brought Asa Buchanan and his oil empire to Llanview in January 1980, as "One Life" cashed in on the buzz surrounding the then-popular CBS primetime drama "Dallas," which featured the powerful Ewing clan of Southfork. In the decades that followed, Asa and the Buchanan family would create much drama, scandal, and deception in Llanview. With Asa at the head of the table, the family would ultimately consist of four sons and a mirarid of wives. In all, the oil tycoon was married 14 times to 10 different women. Carey also took the character of Asa to "All My Children's" Pine Valley for one episode in 2004, as part of a complicated baby switch storyline involving the two sister soap operas. After being prominently featured on "One Life to Live" for more than a quarter century, Carey's airtime diminished considerably following a lung cancer diagnosis in January 2006. While being treated with chemotherapy, he managed to make only a handful of appearances on "
OLTL
" in 2006 and 2007. In March of that year, news broke that Carey was leaving "One Life to Live" after twenty-seven years with the soap.
The decision stemmed from a tense confrontation between Carey and "One Life" executives in which the show refused to offer him a new contract, and instead asked him to go on recurring status. As a result, writers killed off the character of Asa as part of the "OLTL's" 10,000th episode storyline on August 16th, 2007. However, Carey would return to "OLTL" for a few episodes in 2008, most notably during "One Life to Live's" 40th anniversary special episode on July 21st, 2008, when VIki Davidson (Erika Slezak) encountered Asa while visiting Heaven following her "death." Carey's final "One Life" appearance was on December 29th, 2008 when the late billionaire announced in a screening of a video will made before Asa's death, that his entire fortune now belonged to his illegitimate son David Vickers. A portion of Carey's appearance in that episode was shown again early last month during a conversation between Asa's two-time wife Renee and trusted manservant Nigel. Eugene Joseph "Phil" Carey was born in Hackensack, New Jersey on July 15th, 1925. He spent much of his childhood in the communities of Rosedale and Malverne on Long Island in New York. He was a member of the U.S. Marine Corp. during World War II, and was injured when Japanese warships attacked the U.S.S. Franklin in 1945; several hundred of his fellow crewmates were killed. He later saw action in the Korean War. After leaving the military, Carey studied drama at the University of Miami. Shortly thereafter, he was contacted by a talent scout from Warner Brothers who offered him an audition for the film "Operation Pacific." "They flew me out to the coast," Carey stated in a 1994 interview. "They were going to be seeing several other actors for the part. "I was on the set with these other guys and suddenly I see John Wayne. He took one look at me and said, 'You look tired . . . Here's my dressing room — go take a nap.' I did. After we did the scene, Wayne says to me, 'You got the part, kid.' " With Carey's career suddenly taking off, he was placed under contract by Warner Brothers and later by
Columbia Pictures
during the 1950s. Film roles included "I was a Communist for the FBI," "Springfield Rifle," "Calamity Jane," "The Long Gray Line," "Mister Roberts," and "This Woman is Dangerous." From 1956-57 Carey co-starred in the NBC adventure series "Tales of the 77th Bengal Lancers," which was set in the post-Civil War era. He landed a starring role in the 1959-60 ABC crime drama "Philip Marlowe." And from 1965-67, Carey co-starred as Texas Ranger Capt. Edward Parmalee in NBC's "Laredo." Throughout his film career, Carey worked with such greats as Gary Cooper, Henry Fonda, Joan Crawford, Tyrone Power, Fred MacMurray and Kim Novak. Despite these early television and film roles, Carey didn't receive much widespread recognition until becoming the spokesman for the Southern California based 'Granny Goose Potato Chips.' Commercials for the popular snack food company featured Carey rescuing a damsel in distress, only to tell her that 'You may not believe this . . . but my name is Granny Goose.' " Throughout his long career, Carey also appeared in a number of television series, including "The Ford Television Theatre," "The Rifleman," "Cheyenne," "The Gallant Men," "77 Sunset Strip," "Little House on the Prairie," "Gunsmoke", "The Bionic Woman," "Felony Squad," and "
All in the Family
," where he played an old army buddy of Archie Bunker who revealed that he was gay. Carey was also an avid golfer, often hitting the green with Dean Martin at the Riviera Country Club in Los Angeles. And he toured in his several stage plays, including Arthur Miller's "All My Sons" and "Cyrano de Bergerac." As news spread of Carey's death, several of his "One Life to Live" co-stars recalled the years they spent with their former co-star. Robert S. Woods, who portrayed Carey's TV son Bo Buchanan, stated that Carey had been like a second father to him over the years. "He was like 'Pa' to me. My own father passed away in 1975 and I met Philly in 1979. For those 30 years, he has been like a father to me. I don't know if I could love him more if he was my dad." Hillary B. Smith, whose character Nora was for years married Carey's onscreen son Bo, expressed her grief over Carey's death in a post on her official website. "It is with great sadness that I write this: Phil Carey passed away yesterday afternoon after a three-year valiant fight with cancer. He was a light in my life around the studio. A big man, with a big heart that hated the idea that he had such a big heart. It is amazing to lose Clint Richie and Phil Carey in the same week, and yet I don't think they would have wanted it any other way. I just hope they both end up in the same place or there will be Hell to pay…. literally. Phil's presence on the show is still palpable and will always be felt. I miss him. My thoughts and prayers go out to his family. Phil rest; the fight is over; you can go home now. I love you. Hillary" Timothy D. Stickney (R.J. Gannon, "OLTL") had this to say about Phil Carey. "He was a very kind and considerate man. Always aware of the others feelings. NOT like Asa at all in that respect, I grew to like him as much as I respected him. A good man from a time when not all were as open and respectful toward others." Robin Strasser (Dorian Lord, "OLTL"), who worked alongside Carey for many years, has left a message on her hotline in memory of her former co-star. In reference to both Clint Ritchie and Phil Carey: "They were both great guys. Not easy, not uncomplicated, bigger than life. Clint, I'm sure, is with as many horses as you can possibly be surrounded by and on top of one of them, riding free. It was never simple with women but it was unconditional about horses. Their spirits are set free and I feel so lucky to have known them. I celebrate their legacy. My condolences to their near and dear… Wherever [Clint] is, I hope that he's on his favorite horse, riding free, getting together for a few good ones with Phil Carey." Strasser's entire message can be heard on her hotline by calling (212) 414-5300. Carey's former "One Life" daughter-in-law Erika Slezak (Viki Davidson) revealed that she was "incredibly fond" of Phil Carey. "I loved that man very much. He was larger than life like his character of Asa. He was a central figure on the show and to everyone at 'One Life to Live.' When Phil was in the building, you knew it. He will be sorely missed. I was so honored to have the privilege to work with him one final time for our 40th Anniversary show." And "OLTL" Executive Producer Frank Valentini had this to say: "In a week where we said goodbye to Clint Ritchie (ex-Clint Buchanan), the overwhelming news of Phil Carey's death was truly a profound loss to the 'One Life to Live' family. "His presence will always be a part of 'One Life to Live.' The best way to describe Phil was bigger than life. Like Asa, he possessed an undeniable quality that drew you to him, whether he was amusing you with a story or he was just plain ornery. We can only imagine that he and Clint Ritchie are sitting back and having a drink together. Our thoughts and prayers go out to his wife, Colleen, and his five children." Carey is survived by his wife Colleen Welsh, and their two children Shannon and Sean; and three children with his first wife (Maureen Peppler), Lisa, Linda and Jeff. Three grandchildren also survive. "One Life to Live" airs Weekdays on ABC. Weeknights on SOAPnet. Check local listings.
---