Sunday, December 28, 2008 4:55 PM EST |
By Errol Lewis
---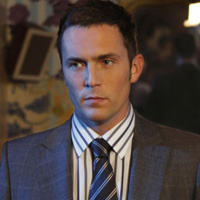 (SoapOperaNetwork.com) — While Bart Bass (played by Robert John Burke) may have perished in an accident while looking to settle things with his wife, Lily (Kelly Rutherford), his younger brother may be the reality check Chuck Bass (Ed Westwick) needs to move on.
Desmond Harrington (Joey Quinn, "Dexter") is joining the cast of The CW's "Gossip Girl" in the recurring role of Uncle Jack Bass beginning Monday, January 5. Jack comes to town after learning of Chuck's spiraling antics. 
After he recently reconciled with his his father, who he thought blamed him for his mother's death, Chuck didn't take the news of his fathers passing very well and has taken to drinking and causing scenes with his friends and extended family (in particular Lily).
Harrington's appearance will not interfere with his "Dexter" work as the series is currently not in production. He will return to the "Dexter" set next year when filming begins for the Showtime series' fourth season.
The actors other credits include starring roles in such series as "Sons and Daughters," "Rescue Me" and "L.A. Dragnet." He also starred in the Steven Spielberg miniseries "Taken." First aired in 2002 on the Sci Fi Channel, "Taken" also starred "General Hospital's" Steve Burton (Jason Morgan). Harrington played the adult version of Jesse Keys, son of Burton's Captain Russell Keys. 
Discussion: Uncle Jack Wants to 'Gossip'
"Gossip Girl" airs Mondays at 8/7c on The CW.
---
Steve Burton
Gossip Girl
Dexter
Ed Westwick
Desmond Harrington
Robert John Burke
Kelly Rutherford
Taken
Rescue Me
Sons and Daughters
L.A. Dragnet