Sunday, December 28, 2008 4:06 PM EST |
By Scotty Gore
---
(SoapOperaNetwork.com) — 2008 goes out with a bang.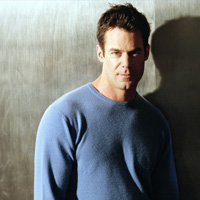 THIS WEEK ON: ONE LIFE TO LIVE
Marty plays upon Todd's feelings; Asa delivers an ominous message to his family from beyond the grave; John enters a new business venture; Langston officially becomes a
Cramer; David recounts his spiritual journey; Charlie and Viki confront Dorian; Sarah's anger boils; Alex has news for Dorian; and Puddle of Mudd rocks Llanview on New Year's Eve.
Encore Presentation
On New Year's Eve, ABC will air a special re-broadcast of the October 1st, 2008 episode of "
OLTL
." The episode will feature Rex battling for his life on the operating table while subconsciously playing a game show called "So You Think You Can Be Shane Morasco's Father," hosted by the late Colin McIver; Shane's horrible reaction to the news that Rex, and not Brody, is really his father; Rex's family and friends rallying around him at the hospital; Layla attempting to contact Adriana with the news; and Natalie unsuccessfully attempting to bargain with Tess to allow her visit Rex at the hospital. "OLTL" will be pre-empted on New Year's Day. Happy New Year!
The Inside Story: A Life Altering Experience
Bo, Nora, and Clint are shocked by the news delivered by Asa's lawyer Beaver Calhoun. Beaver plays a message from Asa informing the Buchanan clan that, since they did not meet the conditions of his will, that his entire fortune now belongs to his long lost son David Vickers. Meanwhile, Viki, Charlie, Moe, and Noelle don't like the changes in David, who has become a monk since last leaving Llanview. Citing his lifestyle change on a life altering experience, David confesses to Viki and Charlie that Dorian is responsible for drugging Charlie and forcing him to drink again. As Charlie and Viki threaten to talk to Bo about her actions, Dorian decides it might be a good idea to skip town until the heats off.
Arriving at St. Blaze's, Dorian is shocked to learn that Alex Olanov now owns Asa'a former island retreat. As Alex entices Dorian with information about David, Clint and Nora go into panic mode after learning from Viki that David is back in Llanview. David apologizes to Addie.
A Closer Look: Revenge Is A Dish Best Served Cold
Todd is shocked to see Marty sitting on her old bed and quickly realizes he is not dreaming. Claiming she is there only to retrieve her old journal, Marty sets her plan in motion. In front of Todd, Marty pretends to read passages from the journal about her budding feelings for Todd, and suggests that she is still in love with him. Later, Marty raises Todd's hopes by asking him to meet her for New Year's Eve. John hands Blair plane tickets as they prepare to head off into the sunset together. Meanwhile, Marty invites Todd to the Palace and claims she wants to discuss their future. Disregarding Tea's warning that he's making things worse, Todd heads for the Palace. Todd believes that he may still have a future with Marty when she tells Todd that she just can't get over him. Pretending to be emotional, Marty escapes to the rooftop with Todd in hot pursuit. Across town, John floors Blair by announcing that he is the new owner and manager of Rodi's, and the two have a romantic evening. A solemn Starr and Cole spend New Year's Eve together at the Puddle of Mudd concert at Ultra Violet. Back on the roof of the Palace, Marty taunts Todd by telling him that the entire evening was a set-up and that he fell for it. Marty further crushes Todd by letting him know that the only feelings she has for him are those of hatred. Cole is shaken to discover Marty's research into Todd's past. Meanwhile, Marty insists Todd end her misery by committing suicide. At the same time, a worried Cole contacts John, who is disturbed by the contents of Marty's new journal. Blair understands when John needs to help Cole.
What to Watch
Dorian surprises Langston with an adoption certificate.
Gigi is able to get Puddle of Mudd to perform at Ultra Violet for New Year's Eve.
Ray calls Tea, who informs him that the plan is working perfectly.
Sarah's anger over Cristian and Vanessa's marriage continues to simmer.
SON ALERTS: WEEK OF January 5, 2009
Monday: Marty's plan takes a new direction; Clint and Nora are impressed by David's transformation; Dorian uncovers the truth about David Vickers. Tuesday: Sarah causes trouble for Cristian and Vanessa; Bess issues Viki a warning; Nora finds a way to make Todd pay. Wednesday: Jared is focused on detouring David; Jessica and Brody each have deep dark secrets; Rex begins to realize just how much of Shane's life he missed. Thursday: Blair angrily confronts Todd over his latest actions; Marty meets up with Brody's Navy buddy Wes; Cole has to make a tough decision. Friday: Marty tells John not to stick his nose in her business; Cole is tempted to take the low road; Nora is floored by what she discovers; Schuyler Joplin arrives in Llanview.
---