Monday, September 29, 2008 12:05 AM |
By Scotty Gore
---
(SoapOperaNetwork.com) — Sometimes you have to get your hands dirty in order to get what you want.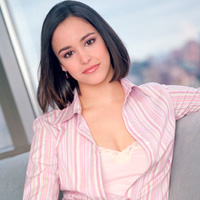 THIS WEEK ON: ONE LIFE TO LIVE
Rex fights for his life, Adriana gives Gigi her walking papers, Dorian takes matters into her own hands, Vanessa makes a shocking confession, John receives insight from an old friend, and Michael and Marcie
long for one another.
The Inside Story: The Things We Do for Family

Addie visits Dorian in the slammer to lend her support. Starr, Langston, and Markko work on a plan to stop Ray from leaving Llanview with Langston. At the same time, Clint denies Cole's accusations and attempts to guilt the teen into keeping mum. However, Cole immediately tells Langston, Markko, and Starr what he has learned. Dorian considers enlisting the services of Jackie McNaughton to take care of Ray. Starr, Langston, Markko, and Cole are unable to visit Dorian, but remain determined to derail Ray's agenda. By week's end, Dorian is out of jail. After being released she first reminds Ray that she knows he is hiding something. Afterward, she heads for the Buchanan Mansion for a showdown with Clint. Vanessa urges Cristian to help her, and claims that Ray is out to kill her.
A Closer Look: My Two Dads

Llantano Mountain serves as the backdrop as Brody flashes in and out reality while reliving his experiences fighting in Iraq. Even though his 'father' is arrested, Shane vows to stand beside him. Meanwhile, Bo and Gigi are clearly concerned for Rex's life, which hangs by a thread. Later, as Bo searches for Shane, Gigi prays for Rex's life. Shane is devastated after witnessing Brody's state of mind while in jail. Bo finally catches up to Shane and escorts him to the hospital where Gigi is preparing to come clean. While he is on the operating table, Rex's subconscious places him in a game show where he must atone for his past actions. Unfortunately, Rex gives the wrong answer to the most important question. Shane has a bad reaction upon learning that Rex, and not Brody, is really his father. At the same time, Rex's family and friends gather at the hospital to give their support. Layla attempts to contact Adriana. Natalie is unable to strike a bargain with Tess, which would allow her to visit Rex at the hospital. While still in surgery, Rex's life is on the line as he is faced with another important question. Meanwhile, Adriana arrives at Rex's bedside. With Rex's life in limbo, Adriana forbids Gigi from coming anywhere near her husband.
What to Watch
Michael watches Marcie assemble a crib.
Still in love with one other, Marcie and Michael remain at an impasse.
Jared defends Natalie to Tess.
Tess delights in torturing Natalie.
Marty researches her past with Todd's computer.
Todd and Tess threaten each other.
Jared gets the feeling that something isn't quite right with 'Jessica.'
John's father's old partner Pete gives Detective McBain new insight into Todd's 'mystery woman.'
Todd urges Marty to move on as she is about to relive the past.
Nora's anger consumes her after learning Dallas is now staying at the mansion.
Antonio and Sarah learn what John uncovered about Cristian while in Columbia.
SON ALERTS: WEEK OF October 6, 2008
Monday: Marty decides to let the past stay buried; Dorian and Clint battle it out; Langston begs Ray to let her stay in Llanview.
Tuesday: Todd and Marty plan for the future; Dorian hires Jackie McNaughton to solve a problem; Clint and Nora have a difference of opinion about Ray.
Wednesday: John keeps a secret from Blair; Jared is on to Tess; Todd surprises Marty yet again.
Thursday: Marty shocks Todd; Jared learns of the secret room; Adriana stands her ground.
Friday: Jared desperately searches for Natalie; Rex's condition worsens; Tina takes action.
---