Thursday, August 28, 2008 11:24 PM EDT |
By Scotty Gore
---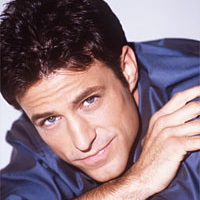 (SoapOperaNetwork.com) — Ty Treadway returns to Llanview to host a new game show starring Rex Balsom.
Psychopath Colin MacIver may be dead, but that won't stop his spirit from invading the inner thoughts of Rex Balsom. Cashing in on the success of Ty Treadway's new game show "Crosswords," "One Life to Live" brings their former star back to town as what else–a game show host.
This fall, Rex's past comes back to haunt him as he lies on the operating table after being shot. As he drifts in and out of conscious, he dreams he is a panelist on a game show entitled "So You Think You Can Be Shane Morasco's Father" hosted by the late Colin MacIver.
The dream, which is expected to last for two days, will expose Rex's fears and concerns about being a good father to 10-year-old Shane, whom he only recently discovered was his. It will also serve to highlight his past misdeeds and how he has changed since arriving in Llanview.
Treadway portrayed the mentally unstable Colin on "OLTL" from 2000-2001. After Colin met his demise, Treadway returned as his twin brother Troy later that same year. After developing an obsession with Nora Buchanan (just as Colin did), Troy went insane and was sentenced to life in Statesville in 2003. In early 2004, Treadway exited "OLTL" a second time.
The dream sequence scenes, which were taped on the set of ABC's "Who Wants to Be a Millionaire," will air on October 1st and 2nd.
There is also talk of Jessica Morris may reprise her role as Jennifer Rappaport (albeit in spirit form) sometime this fall for an episode or two in scenes involving her ex-lover Rex. Morris portrayed the role of Lindsay and Sam's daughter from 2001-2005.
"One Life to Live" air Weekdays on ABC. Weeknights on SOAPnet. Check local listings.
---