Monday, August 18, 2008 8:00 AM EST |
By Errol Lewis
---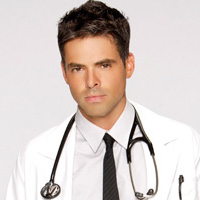 (SoapOperaNetwork.com) — Families coming together.
THIS WEEK ON: GENERAL HOSPITAL
After safely getting Sam home without blowing her cover in the process, Lucky calls Elizabeth over to tend to Sam's wounds. Elizabeth learns that Sam and Lucky's breakup was staged. Sam and Elizabeth reach a new understanding on Tuesday, August 19. In a moment of weakness, Nikolas kisses Nadine. Jason has an opportunity to take out Karpov, but due to unforeseen events he finds himself is a crippling position. Later, Jason rejects Sasha's advances, which are misinterpreted by Spinelli, who reveals his theory to Maxie. Jax can't allow himself to get sucked back in by Carly. Robin has a warning for Nadine as far as Nikolas is concerned. Elizabeth reminds Nikolas that Emily would have wanted him to be happy.
The Inside Story: Is Lulu Crazy?

Lulu and Johnny are caught and subsequently separated as Lulu's family works overtime in trying to get her the help she needs, while the Zacchara's are fearing the worst where Johnny is concerned. Claudia stands up to Scott, who is reveling in the fact that Johnny has been caught. Lulu is comforted by her brothers – She tells Nikolas that she is having visions of Logan, while Lucky promises her that he will be by her side supporting her during her ordeal. Anthony threatens the lives of Alexis' children if she doesn't drop the charges against Johnny. Meanwhile, Scott torments Lulu with thoughts of testifying against Johnny. Alexis meets with Johnny. Sonny discusses matters with both Johnny and Lulu. Lulu has another tormenting vision of Logan.
A Closer Look: Patrick and Robin's New Beginning

As the due date becomes ever closer, Patrick becomes increasingly worried about raising a daughter. He tries to make up for his chauvinistic behavior, but manages to go overboard in his endeavor. Robin sets the record straight for her mother when she jumps to the wrong conclusions over Patrick. Patrick decides to propose to Robin in a very public way. Will Robin accept Patrick's proposal or will she turn him down? Find out on Friday, August 22.
What To Watch
Kate is supportive of Sonny when he brings up the subject of his bipolar disorder.
Nikolas and Nadine share an intimate dance on Friday, August 22.
Jason and Spinelli are at odds.
With orders from Jason, Cody keeps a tail on Karpov.
General Hospital News and Headlines
SON ALERTS: WEEK OF AUGUST 25, 2008
Monday: A miracle occurs when Lulu comes face-to-face with her mother, Laura; Spinelli's life is on the line; Claudia realizes that she needs Ric's help in order to clear Johnny.
Tuesday: Laura and Lulu have a mother-daughter talk that leads to hopes for the future; Claudia and Nikolas become allies; Carly reveals the truth to Jax about her association with Karpov.
Wednesday: Maxie gets emotional over thoughts of losing Spinelli when he takes a turn for the worse; Jax puts a stunned Kate in her place; Ric prepares for battle with Scott and Alexis over Johnny.
Thursday: Jax becomes the latest person to become Karpov's enemy; Lulu tells Laura the truth; Robin's family and friends think she's making a life-changing mistake.
Friday: Matt confesses the truth to Maxie, which is overheard by Jerry; Lulu's visions of Logan continue; Jason and Elizabeth act on their feelings.
"General Hospital" airs Weekdays on ABC. Weeknights on SOAPnet. Check local listings.
---