Monday, August 11, 2008 10:30 AM EST |
By Errol Lewis
---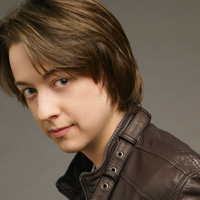 (SoapOperaNetwork.com) — Questioning of the minds.
THIS WEEK ON: GENERAL HOSPITAL
Lulu's path to destruction continues as visions of Logan escalate. Jason manages to save Carly and Claudia from danger, but is unable to learn who was shooting at them. Fearing for Lulu, Johnny contacts Claudia in hopes of finding out a little more about Laura Spencer and what she was like before she had her breakdown years ago. Karpov orders Jerry to kill Jason or else. While trying to deflect Nadine's advances, Nadine becomes suspicious of Nikolas' involvement with Elizabeth. Robin and Patrick finally learn the sex of their baby on Tuesday, August 12.
A Closer Look: Spinelli has a brain tumor?

After once again being rescued by Maxie, Spinelli tries to prove his manhood by suggesting that he and Jason stakeout Karpov's warehouse. Unfortunately for Spinelli, he is rushed to the hospital after passing out due to a heatstroke. Maxie rushes to be by Spinelli's side and is angered by Dr. Hunter's insinuation that Spinelli might have a brain tumor.
The Inside Story: A Town at Large

Everyone in Port Charles is willing to put everything on the line to safely return Johnny and Lulu to Port Charles. Trevor threatens Alexis, Alexis feeds Nikolas information, Nikolas feeds Claudia information, Anthony threatens Alexis' family through his presence, Sonny tells Kate that Johnny and Lulu are Jason's problem, etc. The one cool factor is that the connection between Nikolas and Claudia is growing, but is romance truly in the air?
What To Watch
Lourdes witnesses Lulu's latest meltdown.
Jerry has a warning for Kate.
Jax returns on Wednesday, August 13, but is he back for Carly?
Lucky steps in to save Sam.
General Hospital News and Headlines
"Sopranos" star Vincent Pastore is coming to Port Charles (see story).
"General Hospital" is working on a new opening sequence (see story).
Genie Francis is returning as Laura Spencer beginning Tuesday, August 26 (see story).
SON ALERTS: WEEK OF AUGUST 18, 2008
Monday: Johnny and Lulu are about to reach the end of their journey; Karpov continues his quest for Carly; Sam and Lucky confess all to Elizabeth.
Tuesday: Lulu continues down an unwanted path; Jason is tormented by his actions; Alexis seeks help from Johnny.
Wednesday: Sonny gives Johnny some sobering news; Spinelli and Jason are at odds; Sonny opens up to Kate.
Thursday: Johnny and Lulu are desperate to be together; Patrick and Robin discuss their future together; Lucky gets tough with Lulu.
Friday: Maxie and Spinelli are on a stakeout; Lulu's visions get more violent; Robin comes to an important decision.
---
Please be respectful and do not copy and paste content without consent. Link only.
---