Monday, August 11, 2008 11:28 AM EST |
By Errol Lewis
---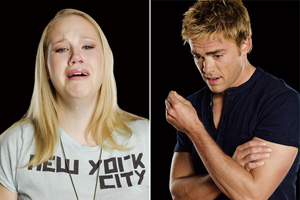 (SoapOperaNetwork.com) — New York Magazine profiles five young soap stars to watch on website.
"Five Young Soap Stars to Watch" is an online feature currently on the website of New York Magazine, in which the mag profiles young stars from New York based soaps that they believe are ready for super-stardom. The magazine enlisted the aide of well-known soap journalists Connie Passalacqua Hayman, a longtime soap journalist and professor of journalism at Marymount Manhattan; Carolyn Hinsey, former editor of Soap Opera Weekly according to reports; Michael Logan, columnist TV Guide; Terry Morrow, TV critic for Knoxville News Sentinel; and Ed Martin, TV editor for JackMyers.com as judges.
Included in the feature are Marcy Rylan (Lizzie Spaulding, "Guiding Light"), 27, Caitlin Van Zandt (Ashlee Wolfe, "Guiding Light"), 23, John-Paul Lavoisier (Rex Balsom, "One Life to Live"), 28, Van Hansis (Luke Snyder, "As The World Turns"), 26, and Kristen Alderson (Starr Manning, "One Life to Live"), 17.
On the Web: Five Young Soap Stars to Watch
While there, check out the magazines interview with "Guiding Light" Executive Producer, Ellen Wheeler (see story).
---
One Life to Live
As The World Turns
Van Hansis
Guiding Light
Kristen Alderson
John-Paul Lavoisier
Caitlin Van Zandt