Wednesday, August 6, 2008 5:00 PM |
By Angela Rosa
---
(SoapOperaNetwork.com) — Love and war.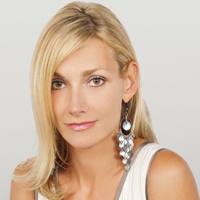 THIS WEEK ON: ALL MY CHILDREN
Jesse turns a blind eye as Tad breaks into Annie's garage and searches her car on Monday, August 11. Tad and Jesse theorize that the tire iron that's missing from Annie's trunk could be the murder weapon that did in Novak. Krystal tells Adam that she doesn't love him anymore. Kathy dismay is obvious when Krystal's efforts to repair her marriage to Tad prove successful. JR enlists Adam in his plan to get Fusion for Babe, meanwhile Babe's resistance to JR's plot begins to wane when she finds Kendall and Greenlee absent from work again. Colby and Carmen bond. Jack tells Erica it's time they both moved on. Erica turns to Samuel and gives him the false impression that she's the one who finally broke things off with Jack. Aidan and Greenlee make love for the first time as husband and wife. Zach thinks he and Kendall should focus on themselves. Jake's mystery woman gives the flirtatious doctor her name, Taylor (Beth Ehlers), but not much else. Kathy acts out against Krystal.
The Inside Story: Leaving Las Vegas

Kendall realizes that Zach thinks Annie might have murdered Richie. Ryan, meanwhile, convinces Annie that he really does want to renew their wedding vows. Ryan, Annie, Kendall and Zach are stunned to find Greenlee and Aidan in the middle of a marriage ceremony upon their arrival at the chapel. Ryan's heart breaks as he watches Greenlee marry Aidan. Kendall reaches out to Ryan who does his best to cover his true feelings when he later shares a dance with the new bride. Zach subtly questions Annie. Annie believes things are looking up for her and Ryan but then sees a vision of Richie at the gaming tables. Zach, Kendall, Ryan, Annie, Greenlee and Aidan all end up flying back home together. On Friday, August 15, Greenlee and Ryan manage to get stuck in the plane's bathroom together. Richie comes out to play with a disgruntled Annie. Annie, later, nervously covers when Kendall asks her about the hidden key at Fusion.
A Closer Look: New Kids on the Block

Amanda offers Randi a job unaware that Babe has already hired Carmen for the same job at Fusion. Carmen makes a hasty retreat when she runs into Randi. Carmen and Randi later meet up at Confusion where it becomes clear that the two women share a past. Carmen points out that Randi is as cynical as ever where men are concerned. Carmen's observation sends Randi straight to Frankie where she leaves him with a sweet goodnight kiss. Randi starts her first day of work at Fusion on Wednesday, August 13, while a determined Carmen returns to Adam's side to reclaim her old job. Amanda tells Randi that she knows about her past as a hooker but doesn't judge her. Carmen tries to get Randi to open up as they reminisce about visiting Myrtle's boutique when they were young. Taylor looks up her old friend Frankie. Taylor explains to Angie and Jesse that she and their son served together in Iraq and returns a special item to Frankie. Randi jumps to the wrong conclusion when she sees Taylor and Frankie in an embrace.
SON ALERTS: WEEK OF AUGUST 18, 2008
Monday: Ryan can't hide his feelings for Greenlee. Jack asks Carmen out on a date. Kathy doesn't want to share Tad with Krystal.
Tuesday: Frankie sets the record straight with Randi. Jesse throws a monkey wrench in Cassandra's plan to skip town. Adam schemes behind JR's back to get Fusion for himself.
Wednesday: Greenlee has a sexy surprise in store for Aidan. Erica is bitten by the jealousy bug when she questions Carmen about Jack. Something is troubling Jesse.
Thursday: Kendall is one step ahead of Annie. Fletcher warns Frankie that his time is running out where Randi is concerned. Adam is up to his old tricks.
Friday: Kendall and Greenlee set out to uncover Annie's secret. Babe gets on board with JR's plan to take over Fusion. Annie figures out what Adam is really up to.
---