Thursday, July 24, 2008 10:43 PM |
By Scotty Gore
---
(SoapOperaNetwork.com) — Rex and Bo work to make sure history repeats itself.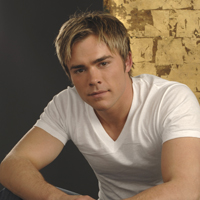 THIS WEEK ON: ONE LIFE TO LIVE
John and Blair's makeout session on the roof of the Angel Square Hotel in interrupted by a shower, causing them to take their lust to the bedroom. Finding comfort in one another's arms, the pair make passionate love. Meanwhile, across town, Marty questions Todd on what became of the three men who raped her. Without revealing his role in the ordeal, Todd assures her that all three men are paying their debt to society. An unknowing Marty informs Todd that he is not to blame for what happened to her, which leaves him covered with guilt. Agreeing to remain friends, Blair and John don't regret their night of ecstasy. Marty continues to become more comfortable around Todd, all the while clueless as to their past history together. Todd discovers that Blair slept with John, and later has a nasty confrontation with them. Todd covers his jealousy in front of Blair by taunting her with his new "lady friend." Todd fumes with rage while watching Blair kiss John good-bye. Nora promises Cole that she will always be there for him. Cole, meanwhile, agrees to give into Starr's demands, but with strings attached. Starr and Cole realize that their love isn't stronger then their present dilemma. Todd continues to make himself the victim in front of Marty. Cole's actions catch Todd by surprise. Marcie won't give up in her quest to adopt Starr and Cole's baby.
The Inside Story: A Grieving Mother

A despondent Tina tearfully informs Antonio and Cain that Carlo ordered Sarah and Cristian over the falls and that both are likely dead. Meanwhile, Carlo demands that Jonas kill Antonio. With her protests falling on deaf ears, Carlo forces Talia to marry Jonas. Antonio is stabbed by Jonas, who leaves him for dead; fortunately, Cristian rides to his brother's rescue. Cristian fears that Sarah surely perished in the fall. Talia and Jonas become husband and wife.
A Closer Look: Back to the Past

Bo and Rex realize that they are trapped in 1968. With everyone still thinking that he is Asa, Bo has a run in with his mother Olympia, who bears a striking resemblance to Lindsay. A horrified Rex receives word that he has drafted to serve in Vietnam. Chuck Wilson Sr. (who looks like Nigel), informs Rex and Bo that they found some strange object near where they were struck by lightning. In reality the object is really Rex's cell phone, which he attempts to use to contact Gigi back in 2008. Although he manages to successfully make a long distance phone call 40 years into the future, the connection is so terrible that Gigi is unable to make out any of what Rex says. Meanwhile, Bo and Rex decide to follow the advice Madame Delphina gave Rex and head for the Bon Jour Cafe. However, along their way to "follow the pie," they soon discover that the Bon Jour Cafe of 1968 was a very different place then it is today. Rex believes that Emma, who looks identical to Gigi, could be the missing piece they need in returning to 2008. Bo receives the cold shoulder from a woman at the diner. Back in 2008, Clint receives a visit from his old flame Dallas, while back in 1968; Bo and Rex meet a younger Renee, who is the spitting image of Dallas. Thinking that Bo is Asa, Renee confronts him over his treatment of Emma. After chatting with a young Spencer, Rex realizes that, even at an early age, he was nothing but trouble. Bo lets Emma down gently, while Rex grows closer to her. And back in 2008, David ponders whether he and Spencer would have been better people had they had a more loving father.
What to Watch
Dorian gloats to David that his free ride has come to a screeching halt.
While at the diner, David is forced to tell Addie that he had their marriage annulled.
David sets fire to Clint's check.
Charlie is mortified to learn that for a time Viki was technically dead.
Viki tells Charlie that she misses him.
Brody promises Gigi that he won't come on to her again; Gigi is left with conflicting emotions.
A solemn Carlotta sifts through the charred remains of the diner.
Although he promises to keep Brody's secrets, Charlie can't help but wonder if Brody is making the right choice.
Viki accepts an offer to travel worldwide to promote organ donation, and says good-bye to Charlie.
Dorian, Blair, and Starr throw David out.
Addie throws a monkey wrench into David's plans.
SON ALERTS: WEEK OF August 4, 2008
Monday: Antonio and Cristian form a plan to save Tina and Talia; Bo realizes he can't change the past; David attempts to con Clint out of his money.
Tuesday: Blair finds a clue after bumping into Todd; Dorian blasts Todd for Starr's troubles; Talia reaches a comprise with Carlo to spare Antonio; Tess throws a going away party for Viki.
Wednesday: Cain refuses to give up the crown jewels; David is shocked by what he doesn't see in the mirror; David Vickers the Dog joins the nuns at St. Ann's; Tina and Viki are reunited.
Thursday: Bo and Rex fear they are stuck in the past; Tess continues her quest for revenge and is unhappy that Aunt Tina is too close for comfort; Todd and Blair have a showdown.
Friday: Bo ensures that history repeats itself; Gigi and Madame Delphina work to find Rex; Professor Del Fina warns Bo and Rex that their time is almost up; John receives a temporary promotion.
---