Monday, July 28, 2008 6:30 AM EST |
By Errol Lewis
---
(SoapOperaNetwork.com) — When you do what you think is right…how do you end up doing oh so wrong?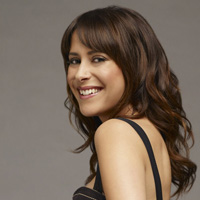 THIS WEEK ON: GENERAL HOSPITAL
Ric and Claudia form an alliance after Ric promises to figure out a way to get Johnny acquitted of the murder charges, while Claudia agrees to sleep with Ric in exchange for Johnny's freedom. While at the apartment, Johnny is unaware that Lourdes knows the truth about Johnny and Lulu. Sal and Lourdes tell the story of how the Zacchara family destroyed theirs. Carly's attempts to seduce Jax backfire, but she refuses to give up. Jerry is up to his old tricks when he tends to a meeting with Karpov. Despite warnings from Lucky, Sam accepts Karpov's offer to captain one of his ships. Nadine plots to gain Matt's trust.
A Closer Look: I Want to Believe

While this isn't an "X-Files" movie, Jason wants to believe that Sonny hasn't turned on him after he learns of Sonny's dealings with Karpov from Ric. In need of digging up information, Jason enlists the help of Spinelli. However, after a conversation with Claudia, Jason is furious with Sonny and is out for blood. Claudia points out some hard truths to Jason. Diane warns Sonny against his dealings with Karpov, but Sonny refuses to believe that Jason would retaliate against him. Claudia finds Sonny and Ric together and questions Ric about his history with Sonny. Claudia has some words for Sonny. Sonny denies Claudia's accusations, while Monica and Spinelli help Jason re-think his relationship with Sonny and how it has cost him. Jason interrupts a romantic evening between Sonny and Kate. Afterward, Jason runs into Elizabeth, Jake and Cameron in the park. Despite his desire to stay and be a family with Elizabeth, Jason allows himself to walk away.
The Inside Story: Eli Love Performs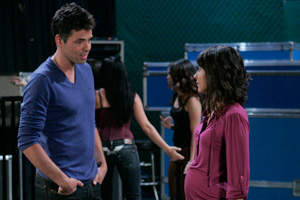 Eli Love is having a concert in Port Charles and Robin sees this as an opportunity to help out her mother, who is down in the dumps over the end of her relationship with Eli. Robin forms a plan to get Anna to the Eli Love concert. At the concert, Anna finds herself snubbed by Eli, who has found himself a much younger woman. Wanting to prove that her mother is just as able as anyone younger than her, Robin has Max and Milo "kidnap" Eli in order to show him the real Anna Devane in action. Anna chastises Robin for setting up Eli's phony kidnapping attempt. Eli is faced with the realities of life when an old girlfriend shows up with a young son in tow – his son. Matt overhears Eli's statements of not wanting to be involved in the child's life, while Patrick steps in and comforts the boy. Patrick warns Eli about what he is willing to throw away for his own selfish reasons. Anna finally wises up and dumps Eli, just before finding Noah a little more appealing.
What To Watch
Spinelli informs Maxie that they can no longer be friends.
General Hospital News and Headlines
Rolando Molina and Kristin Herrera joined the cast in the recurring roles of Sal and Lourdes on Wednesday, July 23.
Missed our casting updates on Friday, July 25? Check them out here.
"General Hospital" is working on a new opening sequence (see story).
On Tuesday, July 29, Eli Love performs the single "What's Victoria's Secret" from the Rick Springfield album Venus in Overdrive due out the same day. Also that day, look for Rick to perform the song on the syndicated talk-show "Live with Regis & Kelly." Check local listings.
Speaking of "Live with Regis & Kelly," actress Amber Tamblyn (ex-Emily) will appear on the show on Monday, July 28 to promote her new movie "Sisterhood of the Traveling Pants 2," due out for release on August 6. The film also stars Blake Lively (Serena, "Gossip Girl"), America Ferrera (Betty, "Ugly Betty"), and Alexis Bledel ("Gilmore Girls").
Graham Shiels returns as Cody Paul on the August 6, 11 and 19 episodes of "GH."
Genie Francis is returning as Laura Spencer beginning Tuesday, August 26 (see story). In the mean time, "Laura" can be seen via a body double beginning Tuesday, August 5.
SON ALERTS: WEEK OF AUGUST 4, 2008
Monday, August 4: Jason confronts Sonny about his association with Karpov; Carly issues Kate a warning; Johnny can't locate Lulu.
Tuesday, August 5: Carly fears the impending war between Sonny and Jason; Lulu visits Laura; Spinelli can't keep up with Maxie.
Wednesday, August 6: Carly gets involved in dirty games; Johnny and Lulu are on the verge of discovery; Jerry has questions for Sam.
Thursday, August 7: Jason issues Karpov a warning; Lulu's hallucinations continue; Sam and Jerry stand their ground with each other.
Friday, August 8: Jason and Carly's lives are in danger; Sonny becomes Karpov's enemy; Spinelli gets himself into hot water.
---
Please be respectful and do not copy and paste content without consent. Link only.
---