Kate Gosselin

ALL THINGS RELATED
Tuesday, August 14, 2012 1:12 AM EDT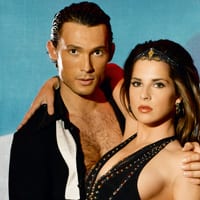 Monday, August 13 was the day to watch ABC's "Good Morning America" as the morning show revealed the dance partners for the upcoming season of "Dancing with the Stars," dubbed the "All Star" edition. With Kelly Monaco's (Sam McCall, "General Hospital") former dance partner Alec Mazo (pictured left, with Monaco) currently appearing in "Dance Temptation," with Edyta Sliwinska, and no longer appearing on the series (he last appeared during season nine), the actress has been assigned to Valentin Chmerkovskiy, who returns for his third season.
Monday, March 1, 2010 10:06 PM EDT
Will Aiden Turner dance away with your votes on Season 10 of "Dancing With The Stars?"