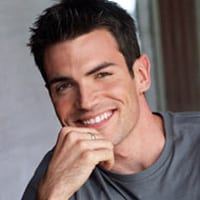 Will Aiden Turner dance away with your votes on Season 10 of "Dancing With The Stars?"
The Season 10 cast of "Dancing With The Stars" was announced during this evenings airing of "The Bachelor: On the Wings of Love." In an interesting casting move, ABC's hit Primetime reality competition series has tapped former "All My Children" hottie Aiden Turner as one of its eleven celebrity dancers this season. The casting is surprising due to the fact that the former ABC Daytime actor (and new father) was fired from "AMC" after being given the opportunity to decide whether he'd move with production of the soap to Los Angeles from New York – and deciding to make the move – last fall. The 32-year old Turner, who relocated his family to L.A. on his own dime following his firing, debuted on "AMC" in June 2002 in the role of Aidan Devane. He last aired in the role in December 2009. Before joining "AMC," the model and Emmy-nominated actor (2003) appeared on popular British soap operas "Eastenders" and "Crossroads." Turner will be paired with professional dancer Edytha Sliwinska, who has yet to not compete on a season of "DWTS" since its premiere. (3/2/10)
Turner is the third "AMC" star to compete on "DWTS." The series, which tapes in Los Angeles, that debuted in June 2005 pairs professional dancers with celebrities (actors, comedians, politicians, musicians, athletes, reality series stars, etc.) that have fallen off the A and B lists, or who haven't quite made it there yet, in an approximately 10-week long dance competition. In Season 5, "AMC" star, as well as "Good Morning America" and "Extra" correspondent, Cameron Mathison was paired with Sliwinska. Mathison finished the competition in fifth place in a season with twelve competitors. Daytime's biggest star Susan Lucci, who plays the legendary Erica Kane on "AMC," was paired with Tony Dovolani in Season 7. Lucci finished the competition in sixth place in a season with fourteen competitors. Of course, it was a "General Hospital" star that started the dance competitions love affair with ABC Daytime. Kelly Monaco of "General Hospital" won the inaugural season of "DWTS" with partner Alec Mazo.
The tenth season of "DWTS" premieres on March 22, 2010 on ABC. The celebrities Turner will be competing against this season include (1) model and actress Pamela Anderson (starred on "Baywatch" which was at one time the most viewed television series in the world; Playboy pin-up), (2) reality-star Kate Gosselin (mother of eight; reality star of TLC's future reality series "Kate Plus 8" and prior to a messy divorce co-star of the canceled TLC reality series "Jon and Kate Plus 8"), (3) athlete Chad (Ochocinco) Johnson (wide receiver for the Cincinnati Bengals football team), (4) actress Shannen Doherty (rose to fame on the original "Beverly Hills, 90210" series), (5) singer Nicole Scherzinger (lead singer of the Pussycat Dolls), (6) comedian and correspondent Niecy Nash (starred on "Reno 911!"; corresponds on CBS's "The Insider"), (7) athlete Evan Lysacek (2010 Winter Olympic Gold Medalist in Men's Figure Skating), (8) astronaut Buzz Aldrin (landed on the moon with Neil Armstrong, the first man to walk on the moon, and was the second man to walk on the moon), (9) broadcaster Erin Andrews (sideline reporter on ESPN; recently in the spotlight when nude video was taken of her through a hotel peephole without her consent), and (10) "The Bachelor: On the Wings of Love" star Jake Pavelka.
The stars professional partners will be announced on Tuesday morning on ABC's "Good Morning America."
"All My Children" airs Weekdays on ABC. Weeknights on SOAPnet. Check local listings. "AMC" now also airs online at ABC.com and can be accessed 24/7.