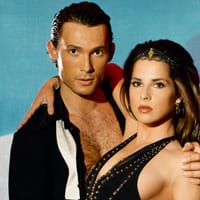 Monday, August 13 was the day to watch ABC's "Good Morning America" as the morning show revealed the dance partners for the upcoming season of "Dancing with the Stars," dubbed the "All Star" edition. With Kelly Monaco's (Sam McCall, "General Hospital") former dance partner Alec Mazo (pictured left, with Monaco) currently appearing in "Dance Temptation," with Edyta Sliwinska, and no longer appearing on the series (he last appeared during season nine), the actress has been assigned to Valentin Chmerkovskiy, who returns for his third season.
Monaco was the first winner of the infamous mirror ball trophy and helped launch the competition series into the hit it became in the summer of 2005. Joining her for the all star edition will be Kirstie Alley, Shawn Johnson, Drew Lachey, Apolo Anton Ohno, Emmitt Smith, Joey Fatone, Pamela Anderson, Helio Castroneves, Melissa Rycroft, Gilles Marini, and Bristol Palin.
Carson Kressley, Sabrina Bryan, and Kyle Massey are vying for the 13th and final position in the all-star edition of "Dancing with the Stars." Fans are being asked to vote for one of the three as part of a show first being called "Viewers' Choice: All Star." Fans can logon to ABC.com/DancingwiththeStars, presented by Diet Pepsi, and cast their votes now through Friday, August 24 at 3:00 PM ET/12:00 PM PT, with the winner announced live on Monday, August 27during "Good Morning America."
What follows is the list of other celebrities competing and their dancing partners:
Kirstie Alley is re-teaming with Maksim Chmerkovskiy, who returns for his 13th season.
Pamela Anderson will be joined by Tristan MacManus, who returns for his third season.
Helio Castroneves is dancing with Chelsie Hightower, who returns for a seventh season.
Joey Fatone is getting Kym Johnson, who is entering season number 12.
Shawn Johnson has luck on her side as she's teamed with Derek Hough, who returns for his 10th season.
Drew Lachey won season two, but instead of Cheryl Burke he's getting Anna Trebunskaya, who returns for her 10th season as well.
Gilles Marini took his "Dancing" fame to "Brothers & Sisters," but Peta Murgatroyd isn't related to him. She returns for her third season.
Apolo Anton Ohno gets Karina Smirnoff, who has 12 seasons under her belt.
Bristol Palin returns to the floor with help from her former partner Mark Ballas, who has enjoyed 11 season on the series.
Melissa Rycroft gets Tony Dovolani, who, in the video below, reveals he's excited about getting his name back from "poor Tony" to "Tony," referring to the infamous Kate Gosselin debacle. He returns for his 14th season on the show!
Emmitt Smith got Burke, who is also returning for a 14th season on the show.
For a look at the "GMA" announcement, watch the video below.
The new season of "Dancing with the Stars" premieres Monday, September 24 at 8:00 PM ET/PT on ABC.