On today's edition of CBS' "The Talk," "The Young and the Restless" star Jason Thompson (Billy Abbott) appeared for the first time on the daytime talk show. After welcoming him to the CBS family, the co-hosts asked the actor about working on the soap opera and how things have gone so far him, including how easy it was to be "sleeping" in bed while his castmates cried over the possible loss of his character. The actor also shared where he hides his lines when necessary.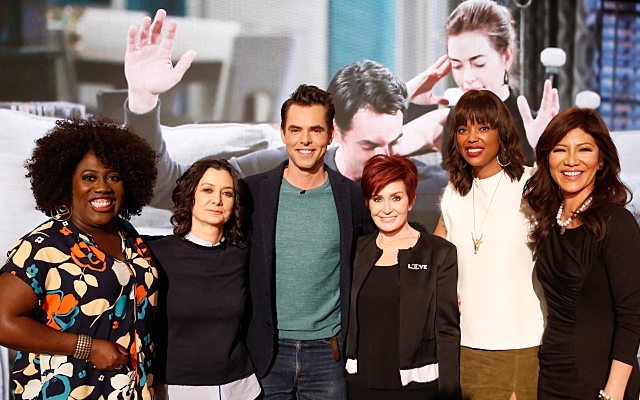 After thanking the ladies for their warm welcome, Thompson revealed that it was very easy fitting into the world of Genoa City and how welcoming his fellow cast members were to his joining the show. He happily told the women, "I'm sure you've met many of them over the years, but they're just great people and I mean it feels really good to be over at CBS."
For the first couple of episodes Thompson's turn as Billy began with the character laying in a hospital bed following a violent double whammy that left his family with the decision to pull the plug after doctor's proclaimed him physically incapable of surviving on his own: First the character was beaten by a bookie and then he was hit by a car that reversed into him, unknowingly at the time by Noah Newman (Robert Adamson). But how easy was it to play those bedridden scenes? Not only was it relaxing, it was also "pretty easy," relays the actor.
"I have to say as an actor it was fantastic because I had all the castmates — all the people that mean the most to the character — crying and billowing over the character, so I learned a lot about what their relationships were. How we kind of got along in this past life, or the life I wasn't really a part of, which was great. I was kind of mentally taking my notes as I was laying there trying not to, you know, wink or do anything," said Thompson.
Speaking of lying in the bed, one always wonders where an actor would be able to hide their lines of dialogue (or lack thereof in Thompson's case) in order to keep in tune with the happenings around them. According to Thompson, "You hide it anywhere you can. Beds, drawers…"
To watch clips from Thompson's appearance on "The Talk," click on the play buttons below.
https://www.youtube.com/watch?v=VuWAW_zOerM