FACT:
Jordi Vilasuso debuts as Dario Hernandez on Friday, February 19
After portraying Griffin Castillo on "All My Children" and Tony Santos on "Guiding Light," actor Jordi Vilasuso decided the timing was right for another turn in daytime. Lucky for him, "Days of our Lives" was looking to expand the Hernandez clan with the return of Dario (last played by Francisco San Martin).
After meeting with executive producer Ken Corday, co-executive producer Albert Alaar and co-head writer Josh Griffith last summer, Vilasuso responded well to the idea of portraying a "very intelligent" character on the soap.
In an interview with Soap Opera Digest, on newsstands now, Vilasuso says that in addition to being intelligent, "Dario is also very passionate and outspoken. He has a short fuse. I was so ready and wanting to play this guy. When the meeting ended, they said, 'Okay, great!' It just worked out beautifully. It was probably the easiest, greatest way to get a role in our TV landscape that I've ever dealt with."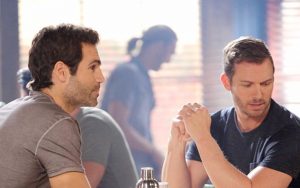 When the actor debuts on the Friday, February 19 episode of the soap, it'll be in scenes alongside Eric Martsolf, who plays Brady Black, and Marie Wilson, who recently debuted in the newly created role of Summer. "Brady is in California and he spots Dario working as a bartender," shares Vilasuso, who notes, "I met Eric Martsolf at the Daytime Emmys a few years ago. Eric is very close with Lindsay Hartley (ex-Arianne Hernandez, "DAYS"; ex-Cara Castillo, "All My Children"; ex-Theresa Lopez-Fitzgerald, "Passions"], as I am. I got to know Eric and thought he was a cool dude."
Another "AMC" connection for Vilasuso comes courtesy of Vincent Irizarry (ex-David Hayward), who currently appears as Deimos Kiriakis on the soap. "I'm so happy that Vincent is on the show. I have a lot of respect for him as a person and as an actor."
Dario is the brother of Rafe (Galen Gering) and Gabi (Camila Banus). A Martinez plays their father, Eduardo. In the weeks and months ahead, telenovela star Alma Delfina will begin appearing as the matriarch of the family.
Outside of daytime, Vilasuso most recently appeared in episodes of "The Glades" and "Graceland." He starred in the Hulu original series, "South Beach," co-starring Jacqueline MacInnes Wood (Steffy Forrester, "The Bold and the Beautiful") and aired last summer on the streaming service. He'll next appear in the film "Below the Surface."