"One Life to Live's'" Patricia Elliott has died at the age of 77. The actress, who portrayed Renee Divine on the former ABC Daytime drama series passed away on Sunday, December 20, in her Manhattan home after a battle with cancer, reports her niece, Sally Fay.
"Early on in my career, I learned not to be a snob because you have to make a living as an actor," Elliott is quoted as saying to the United Feature Syndicate in 1990. "Being on a soap has expanded my acting ability. I really enjoy the spontaneity of daytime and the opportunity to work regularly. It's also wonderful to interrelate with the same people every day."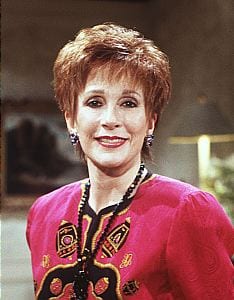 Nominated for a Tony Award in 1977 for her role in the original production of "The Shadow Box," Elliott has also appeared in such Broadway productions as "A Doll's House," "A Month of Sundays" and "Hedda Gabler."
A graduate of the University of Colorado in 1960, Elliott was part of the Cleveland Play House, the Guthrie Theater in Minneapolis and Arena Stage in Washington, D.C., among others.
In addition to her role on "OLTL," Elliott appeared in episodes of "St. Elsewhere," "Kojak" and "Hill Street Blues."
Outside of her niece, Elliott is survived by an aunt, Claudine Walker, and several cousins.
Official ABC Statement (added 12/22/15):
"Patricia Elliott was a great lady, a cherished performer and a great friend to so many. For more than two decades she delighted daytime audience with her "divine" talents on One Life to Live. Our deepest condolences to her family and loved ones."
Portions of this article were culled from ABC News and The Washington Post.