With anticipation of returning characters, historic moments, and happy memories upon us as "Days of our Lives" celebrates its 50th anniversary later this fall, the daytime drama series is set to release a new photo book titled "Days of our Lives: 50 Years," which was pieced together by co-executive producer Greg Meng. As part of the release, a multi-city promotional tour has been scheduled.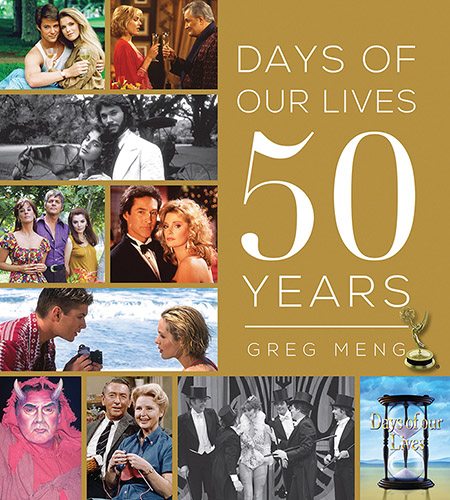 Available for pre-order now and for purchase at retail locations nationwide beginning Tuesday, October 27, the book brings fans of the long-running series closer into the world of Salem USA – from its early beginnings to its brightest days and highlights 50 years of iconic characters and beloved storytelling.
"As a longtime member of the Corday Productions family, it is a privilege to present this memory book," said Meng in a statement. "'Days of our Lives: 50 Years' is a collection of rare photos providing a big picture view of the show's history while reflecting the heart and soul of the show through some of the beloved and iconic stories during the first 50 years. This is a tribute to our family of fans around the world."
"Days of our Lives: 50 Years" brings fans on a journey through some of the most memorable moments and storylines, including:
Tantalizing Triangles — Relive the complex affairs of the heart between Bill, Laura and Mickey; Roman, Marlena and John; and Carrie, Austin and Sami.
Supercouples — Fall in love with Bo and Hope, Patch and Kayla, and Jack and Jennifer all over again.
Bad to the Bone — Stefano DiMera reigns at the top of a long list of villains who have brought trouble to Salem over the years.
Shocking Twists — Bo is Victor's son!, the real Roman Brady returns!, Vivian buries Carly alive!, and who was revealed to be The Salem Strangler, The Salem Slasher and The Salem Stalker!
Groundbreaking — The first gay male couple to be married on a soap opera (Sonny and Will-2014), the first interracial romance on a daytime soap (David and Valerie-1976), and the first soap opera stars to appear on the cover of TIME (Doug and Julie-1976) are just a few of the many "firsts" featured on the show.
In the days leading up to the release of the book, a multitude of "DAYS" cast members will join Meng for a multi-city tour that kicks off in Los Angeles on Sunday, October 25, including: Deidre Hall (Marlena Evans), Kristian Alfonso (Hope Williams Brady), Thaao Penghlis (Andre DiMera), Stephen Nichols (Steve "Patch" Johnson), Galen Gering (Rafe Hernandez), Lauren Koslow (Kate Roberts), Greg Vaughan (Eric Brady), Camila Banus (Gabi Hernandez), Melissa Reeves (Jennifer Horton), Billy Flynn (Chad DiMera), Christopher Sean (Paul Norita), Kate Mansi (Abigail Deveraux), Drake Hogestyn (John Black), Suzanne Rogers (Maggie Horton), Bryan Dattilo (Lucas Horton), Martha Madison (Belle Black), James Reynolds (Abe Carver), Bill Hayes (Doug Williams), Susan Seaforth-Hayes (Julie Williams), James Lastovic (Joey Johnson), Peggy McCay (Caroline Brady), Arianne Zucker (Nicole Walker), Eric Martsolf (Brady Black), Jen Lilley (Theresa Donovan), Wally Kurth (Justin Kiriakis), Sal Stowers (Lani), and Judi Evans (Adrienne Kiriakis).
*Note: Talent availability is subject to change.
Tour dates and locations are as follows:
Los Angeles-10/25/2015 Book signing at Barnes & Noble The Grove at 2:00pm
Phoenix-10/26/2015 Book signing at Changing Hands at 6:30pm
New York-10/27/2015 Book signing at Barnes & Noble on 5th Avenue at 12:00pm
Northvale, NJ-10/27/2015 Book signing at Books & Greetings at 6:30pm
Denver-10/28/2015 Book signing at Tattered Cover, Aspen Grove at 6:30pm
Dallas-10/29/2015 Book signing at Barnes & Noble at 6:30pm
Kansas City-10/30/2015 Book signing at Oak Park Mall (B&N) at 6:30pm
Atlanta-10/30/2015- FoxTale Book Shoppe – Location TBD at 6:30pm
Pigeon Forge-10/31/2015 Book signing at the Titanic Museum from 11:00am to 3:00pm
To pre-order or purchase your very own copy: click here for Barnes & Noble or click here for Amazon.com.