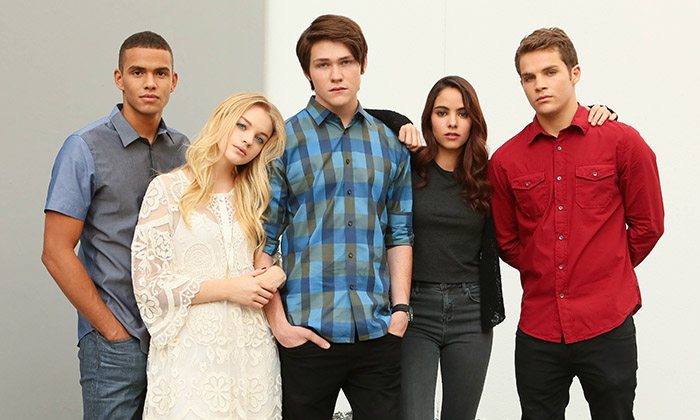 With new head writers on the horizon it was inevitable that "Days of our Lives" would also be getting a new teen scene, especially with what executive producer Ken Corday says to TV Insider's Michael Logan of something his late mother, Betty, used to share with him: "'You have to water the roots of the [Days of our Lives] tree with a new generation every 10 years or so' and that's what we've done," notes Corday to Logan. "These are the children of the children of the children of the children, and they are vital to our future."
With new head writers on the horizon it was inevitable that "Days of our Lives" would also be getting a new teen scene, especially with what executive producer Ken Corday says to TV Guide's Michael Logan of something his late mother, Betty, used to share with him: "'You have to water the roots of the [Days of our Lives] tree with a new generation every 10 years or so' and that's what we've done," notes Corday to Logan. "These are the children of the children of the children of the children, and they are vital to our future."
So just what will the next generation of children taking prominence on the 'DAYS" canvas look like? Beginning Friday, August 28, James Lastovic takes on the role of an aged Joey Johnson, the son of Patch (Stephen Nichols) and Kayla (Mary Beth Evans). Friday, October 30 marks the introductions of an aged Ciara Brady (Vivian Jovanni), daughter of Bo (Peter Reckell) and Hope (Kristian Alfonso), and Chase Jennings (Jonathon McClendon), the son of Aiden (Daniel Cosgrove). A new Theo Carver, son of Abe (James Reynolds) and the late Lexie (Renee Jones), comes to town on Tuesday, November 3 as played by Kyler Pettis, followed by Claire Brady (Olivia Keegan) on Wednesday, November 25. Claire is the aged daughter of Shawn and Belle Brady, played by the returning Jason Cook and Martha Madison.
"By aging these children into young adults, we're making them more relatable to our audience and more dramatically exciting," says Corday. "These are not ancillary characters, but young leads. None of them will be a goody two-shoes. Each is somewhat flawed."
For more on the new teen set visit TVInsider.com.