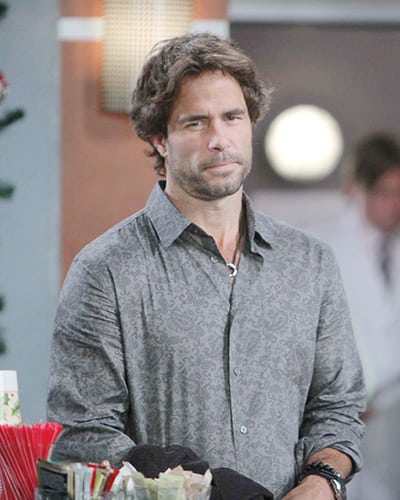 In the first major casting announcement under new head writers Dena Higley and Josh Griffith, who replaced Christopher Whitesell and Gary Tomlin last month, "Days of our Lives" is seeking to cast a legitimate Australian actor for the contract role of Finn, a "ruggedly handsome" Australian doctor who is doing his residency in Salem and will work under the stewardship of Doctor Daniel Jonas (Shawn Christian), reports the Australian Associated Press and TV Tonight.
The soap, which is accepting submissions now through Sunday, March 22, is specifically looking for an actor who can play between the ages of 20-35 and is ready to relocate to Los Angeles and commit to a 12 month contract with a minimum standard 13 week guarantee. The character isn't set to hit the screen until mid-to-late October, or just before the 50th anniversary of the daytime drama series, which is scheduled to air on Monday, November 9 – the soap debuted on November 8, 1965.
"We've been wanting to do something with Australia because we've got so many fans down there. So when we became part of the Arena TV family it was like a slam dunk," said Greg Meng, co-executive producer, in an interview with TV Tonight. "It's been a while since we've had an Aussie on the show so we thought this was a great opportunity to search for your talent."
Bren Foster (ex-Quinn Hudson) and Justin Melvey (ex-Dr. Colin Murphy) were the most recent Aussies with prominent roles on "DAYS."
"It's a legitimate role, it's not a beauty search. So we're looking for an actor who can fulfil this role. It's an integral role to the storyline," says Meng of Finn and his ties to Daniel. The producer also notes that while the character will debut just before the 50th anniversary of the soap, the character will continue "through and beyond."
"If they're beautiful and sexy that's great, but we are looking for somebody who can step in and fill this legitimate role with a legitimate storyline and a really well constructed character," Meng says to AAP from Hollywood. "This is not a stunt just to bring somebody on who is pretty."
Reiterating that sentiment to TV Tonight, Meng says, "Daytime is the most strenuous production that there is. There's no room for those who don't have the experience. We tape 7-8 shows a week so it's an incredible experience. If you can do this you can launch into other arenas like primetime or movies." He notes, "So we need someone who can adapt to the environment and deliver quickly."
Outside of Finn, the soap has several surprises in store for its anniversary coming up. "Every single fan will be extremely pleased. We have some great surprises and we're honouring the fans from the past and the present. It's about family both younger, and iconic figures," Meng said to TV Tonight. "But buckle up because we're going to be leading up to that."
To apply for the role: Days of our Lives: Search for a Star powered by ArenaTV.
Requirements:
You must be an Australian male aged 20-35 years of age.
You must provide proof of previous acting experience or qualifications.
You must upload a 3 minute showreel/video
You must supply 2 recent photos (head shot and full body shot)
You must be able to travel to LA between April 13-18, 2015.
You must be able to relocate to LA for a minimum of 13 weeks from Monday May 18, 2015.