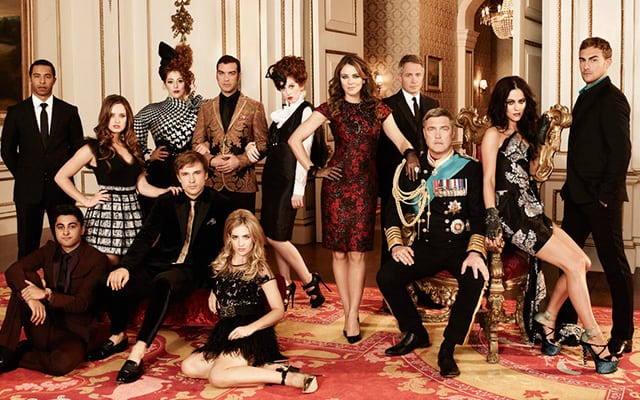 "The Royals" marks E!'s first entry in the original scripted drama series game when it premieres Sunday, March 15, and as the network highlights the annual Christmas address by Queen Helena (Elizabeth Hurley), who says, "I'm supposed to tell you what a wonderful year it's been. I'm supposed to smile and stick to the script. But the truth is, as a family, as a monarchy, we're hanging on by a thread," we can't help but prepare to witness the next great soapy drama!
From the clip itself, however, you'll note she doesn't say any of that, but in the end it doesn't matter because anything that provides as much drama as "The Royals" intends can't be a bad thing. Newly Anointed Dame Joan Collins ("Guiding Light," "Dynasty") guest stars as the Queen's mother, the Grand Duchess of Oxford.
In addition to Hurley, "The Royals" also stars Vincent Regan as King Simon, along with William Moseley as Prince Liam and Alexandra Park as Princess Eleanor, Jake Maskall as Cyrus, King Simon's brother, Ukweli Roach as Liam's bodyguard and confidant Marcus, Tom Austen as Jasper, Princess Eleanor's new bodyguard, Sophie Colquhoun as Liam's ex-girlfriend Gemma, Oliver Milburn as Ted, the head of security for the Royals, and Merritt Patterson as Ophelia, Ted's daughter who gets entwined with Prince Liam.
For an extended clip of the new series, click play below:
"The Royals" premieres Sunday, March 15 on E!