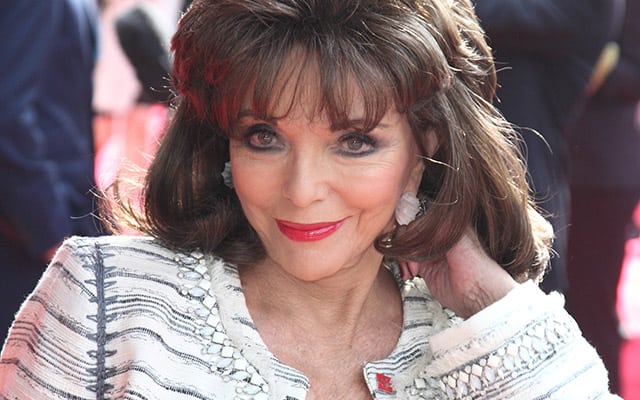 May you now and forever refer to her as a dame! Queen Elizabeth II has awarded actress Joan Collins ("Dynasty," "Guiding Light") with the honor of damehood, reports the BBC.
Collins said in an interview with BBC News about her being made a dame in the New Years Honors List, "I'm delirious, thrilled and excited and very, very honored. I am very pleased about being recognized for my charitable and philanthropic work because I'm not a grand standard with it. It's quite under the radar and it's all mostly to do with children – all of my charities are involved with children – particularly the Shooting Star children's hospice, which is very dear to my heart and very important to me."
As for receiving the honor itself, Collins notes, "There's nothing to compare with being a dame. Getting that kind of accolade from my country, from my queen. I'm very patriotic and quite a royalist as well. It is extraordinary. What can I say, It's beyond anything that one could ever dream of happening."
In a bit of irony, Collins will portray the role of a Duchess in E!'s upcoming original scripted drama "The Royals." She'll play the Grand Duchess of Oxford in the series, which stars Elizabeth Hurley as Queen Helena and William Moseley as Prince Liam in a modern day version of London.
"The Royals" premieres Sunday, March 15 on E!