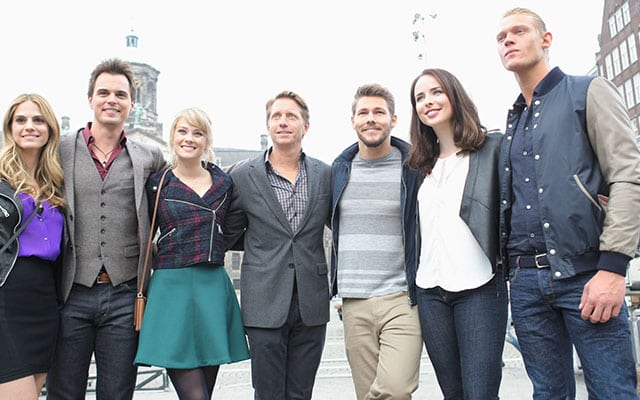 This month on CBS' "The Bold and the Beautiful" fans will get to see the beautiful city of Amsterdam when Hope (Kim Matula), Liam (Scott Clifton), Wyatt (Darin Brooks) and Ivy (Ashleigh Brewer) travel abroad to mix business with pleasure, but an on location shoot isn't the only thing to look forward to on the daytime drama series.
On Monday, November 3 and Tuesday, November 4, Fred Willard returned to the soap as John Forrester who took his brother, Eric, for a fishing expedition, but don't fret – John McCook isn't leaving "B&B." Also on on November 4, Pamela Shaddock appeared on the episode as Hope's doctor. Meanwhile, worried about Aly's (Ashlyn Pearce) mental stability, Taylor (Hunter Tylo) pops back in on Wednesday, November 5, as does the ghost of Aly's momma, Darla (Schae Harrison). Tylo returns appears again on Wednesday, November 12.
The Amsterdam location shoot takes center stage beginning Monday, November 10, when Kelly Kruger ("The Young and the Restless") appears as Eva, a Forrester International Publicist. Popular Netherlands soap star Ferry Doedens (Luke Sanders, "Goede Tijden, Slechte Tijden" or "Good Times, Bad Times") also begins his guest starring role as Lars, a Forrester Creations public relations executive, a role created especially for episodes filmed in Amsterdam. Kruger continues her appearances on the Wednesday, November 12 and Thursday, November 13 episodes. Doedens will appear in episodes through Thursday, November 13.