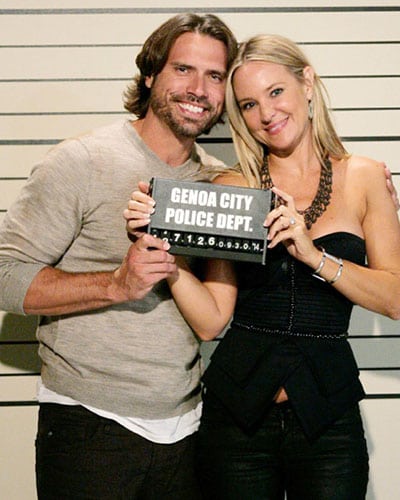 Just as Nicholas (Joshua Morrow) and Sharon Newman (Sharon Case) get ready to head down the aisle one more time, cast members from CBS' "The Young and the Restless" took time out of their busy schedule to pose for their mug shots in a hilarious photo gallery posted on Entertainment Tonight's website. If you thought it was all for laughs, however, think again!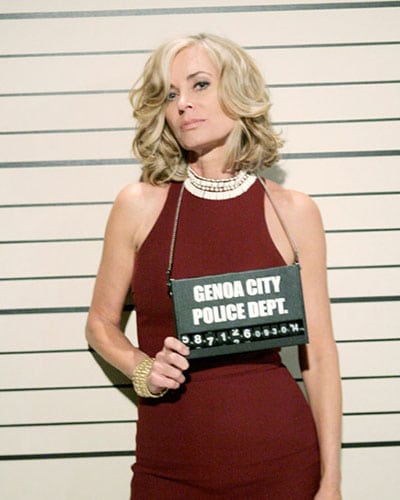 While you're likely already aware of Sharon's upcoming bachelorette party airing on Tuesday, September 30, featuring an appearance by real-life Chippendales dancer Jaymes Vaughan, and Nicholas' bachelor party, the wedding of the life-long love birds is set to air on Friday, October 3 and Monday October 6, but before the happy occasion can take place all hell is about to break loose. With the exception of police officers Mark Harding (Chris L. McKenna) and Courtney (Kelli Goss), a "Y&R" rep tells Soap Opera Network that everyone featured in the gallery is about to get arrested! Yes, even the rich can't get themselves out of this one.
READ ALSO: EXCLUSIVE: Jaymes Vaughan, Real-Life Chippendales Dancer, Heads to 'Y&R' For Sharon's Bachelorette Party!
Actors taking part in the gallery include the aforementioned Morrow and Case, Peter Bergman (Jack), Eileen Davidson (Ashley), Christian Le Blanc (Michael), Amelia Heinle (Victoria), Sean Carrigan (Stitch), Melissa Ordway (Abby), Bryton James (Devon), Christel Khalil (Lily), Daniel Goddard (Cane), Camryn Grimes (Mariah), Redaric Williams (Tyler), Hunter King (Summer), Matthew Atkinson (Austin), Melody Thomas Scott (Nikki), Greg Rikaart (Kevin), Max Ehrich (Fen), Cady McClain (Kelly) and Kristoff St. John (Neil). Also featured are McKenna and Goss, just to add a little bit of more fun.
READ ALSO: Matthew Atkinson Upped to Contract Status at 'Y&R'
To find out how things fall into place storyline wise, you'll just have to tune into "Y&R" weekdays on CBS and weeknights on TVGN.