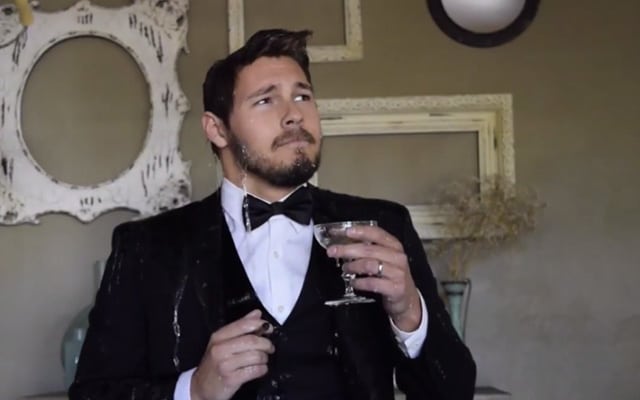 If you ever thought that "The Bold and the Beautiful's" Scott Clifton (Liam Spencer) had a James Bond type style about him, but couldn't figure out why, the actor donned an elegant suit with a martini glass and cigar in hand after being challenged by friends and "B&B" co-star Darin Brooks (Wyatt Spencer) for the ALS Ice Bucket Challenge, which definitely explains things.
"You may be asking yourself, 'Scott, why do you look so snazzy today? Why do you look so good?' I'll tell you why… because I've been nominated for the ALS Ice Bucket Challenge," says Clifton in the video before noting there's a problem with being challenged. "The problem is… I'm a classy guy. So if I'm gonna undertake a challenge like this, you know I'm gonna do it in style. Now if I'm gonna do it in style, here's how I'm gonna do it. I'm gonna finish my martini here and I'm gonna order another one, except this time, I think I'll have it on the rocks," says Clifton in his challenge video before calling for the bartender – wife Nikki, who douses Clifton. Afterward, Clifton takes another sip of his martini and says, "Now that's a classy drink."
As the would be end credits appear, which was actually text of who Clifton nominates to take the challenge next – "B&B" co-stars Ashleigh Brewer (Ivy Forrester), Ashlyn Pearce (Aly Forester) and cat Walter White (Bu) – Clifton is heard saying, "I'm freezing… oh god, it's cold! Oh, it's so cold."
READ ALSO: DETAILS: Scott Clifton's Animal Kingdom
Scott and wife Nikki, who also took the challenge, both donated to support the ALS Association in their efforts to fight Lou Gehrig's Disease. To learn more about how you can help, click here.