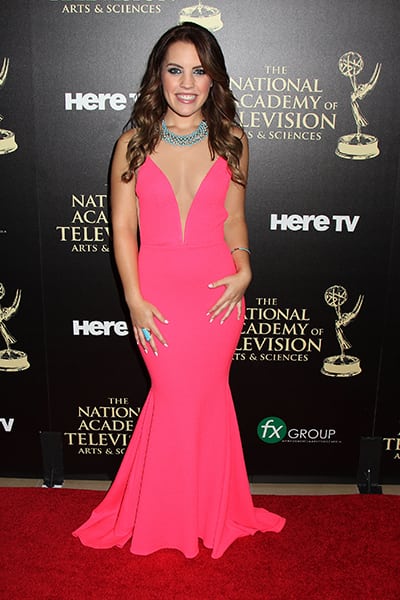 Soap Opera Network's coverage of the 41st Annual Daytime Emmy Awards red carpet continues this week, starting with "General Hospital's" Kristen Alderson (Kiki Jerome), who was nominated for Outstanding Younger Actress. "The Young and the Restless'" Hunter King (Summer Newman) ended up taking home the Emmy, but as you'll see below, Alderson couldn't have been happier for her counterpart!
Soap Opera Network: Kristen, you're looking so bright and beautiful! 
Alderson: Thank you! This is Michael Costello.
Why did you choose this gown over any other?
Well every year, I wear a gray or a beige or something that's understated, and I wanted color. And boy did I get it! It kind of just found me. It was the third dress that I tried on and it was like, "Yeah, done! That's the one."
Is the necklace part of the dress, or something you added?
Nope, it's just something I added for a spin.
It's perfect! So take me through your day: What did you do after you woke up and leading up to the red carpet?
We set our alarms for 10:00 am, we got up, I had a bowl of Cinnamon Toast Crunch, because that's how I start my morning every morning, took Pooka outside to go to the bathroom, and then the makeup and hair people showed up. So it was so quick, everything. I'm also so nervous getting ready, it's the part that I'm most nervous about. I just want my hair and my makeup to look good, and then I'm fine! So I'm very relieved.
Besides yourself, of course, is there anyone that you believe most deserves an Emmy award tonight?
Well I'm totally rooting for Chad [Duell, Michael Corinthos]. I'm so glad that we're nominated this year. He's been on this show for four years now, so I'd be so happy to see him take it home. And then I don't really care if I win this year. I'm very proud of the work I've put in of course, but I'd be so happy just to see another girl get to have the experience that I had last year.
So it sort of takes the pressure off, knowing that you won last year?
Yes, for sure. I was saying to my mom, it's like if you know how you always want a daughter, and you have a daughter, then with the next, it's like, "Ok, I don't care if it's a boy or a girl. It's good either way!"