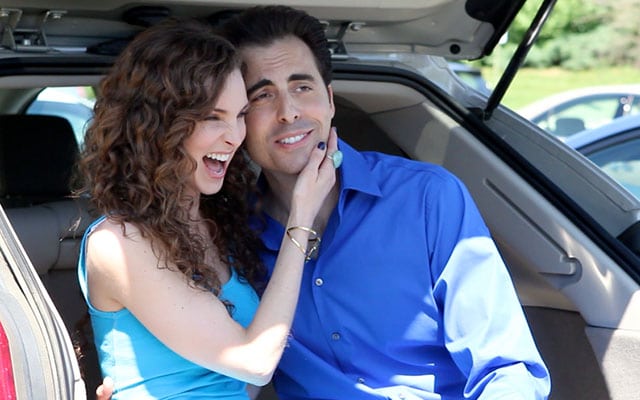 TVtibi, a new TV everywhere internet based network currently in beta test, announced today that they have given a series order to "Surviving Sam," a dramedy starring former "All My Children" actress Alicia Minshew (ex-Kendall Hart) and comedian Rob Magnotti.
Created by Toni Marcolini and Maria Plinio, the show follows Minshew in the role of Samantha "Sam" Gallo, a newly divorced woman forced by an unamused Family Court judge to live under the same roof as her OCD ex-husband, Ben (Magnotti), to raise their two children. Meanwhile, Ben is trying to survive the storm in this cutting edge look into a relationship in ruins tied together by family obligations and residual feelings. Gerry Plinio will play Christina, one of the two daughters.
"We've had our eye on Rob Magnotti for some time now. He's one of the great comedian/impressionists out there today and we're capitalizing on that for the show giving him a little freedom to bring those impressions to daily life," said the network in a statement. "Alicia of course is wildly popular from her decade over at ABC's 'All My Children,' and is his match in every way. Her film, 'Desires of the Heart,' just premiered at the Cannes Film Festival. Her character is the quintessential high maintenance woman. She pulls it off with such grace and humor, that we're confident the audience will love to hate her. Everyone at the network is very excited about the possibilities this project offers."
"SURVIVING SAM" PROMO

The "Surviving Sam" cast also includes comedian Richie Minervini as Mel, former boxer and NY Golden Gloves Champion Seamus McDonagh as Ron and Dena Tyler ("Orange is the new Black," "As The World Turns") as Michele. Jodi Binstock ("A Snow Globe Christmas") serves as director of the series.
Former Middleweight Boxing Champion John Duddy, who is set to appear in the upcoming Robert De Niro film "Hands of Stone," will play Dave, Sam's boyfriend following her divorce.
The series will be filmed in the New York/New Jersey metropolitan area.
TVtibi is scheduled to launch in August 2014.
For more information, visit www.TVtibi.com and www.survivingsam.com.