Beginning Thursday, May 8 and running through Tuesday, May 13, ABC's "General Hospital" will present the 2014 Nurses Ball sponsored by Yoplait Greek Yogurt. ABC.com recently published photos on its website providing viewers with a sneak peek at the event as well as some behind the scenes shots.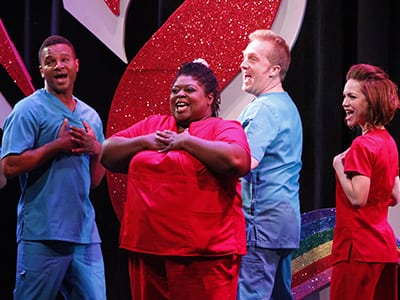 While specific details on song and/or dance numbers have yet to be revealed by the show, based on the the photo above Kristen Alderson (Kiki Jerome), Haley Pullos (Molly Lansing), Kirsten Storms (Maxie Jones) and Emme Rylan (Lulu Falconeri) appear to have performed some kind of number together as each actress is garnering a fashionable feather hair extension with different color choices – Alderson with white, Pulos with light blue, Rylan with red, and Storms with orange/yellow. Also performing together once again are the Nurses of General Hospital, sans Sabrina (Teresa Castillo), who just prematurely delivered her baby with Patrick (Jason Thompson). Epiphany Johnson (Sonya Eddy) is center stage as she's joined by fellow nurses Felix DuBois (Marc Anthony Samuel) and Elizabeth Webber (Rebecca Herbst).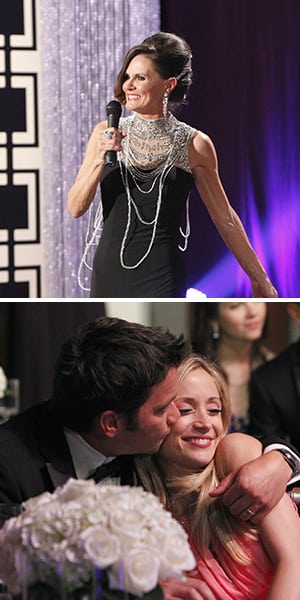 For those wanting their usual Lucy Coe (Lynn Herring) fix, you're in luck! The character is once again emceeing the event, which again takes place at the Metro Court Hotel.
While we aren't expecting as much of a spectacle to be made this year compared to last year, when the show was celebrating its 50th anniversary, the always entertaining Lucy is sure to make viewers gasp and smile with all the surprises she has in store.
Speaking of a smile, one can't help but notice how happy Dante (Dominic Zamprogna) and Lulu appear to be now that they are finally reunited with their bundle of joy. Recently the loving couple learned that Britt's (Kelly Thiebaud) baby, Ben, was actually their child via in vitro fertilization (IVF). The couple decided to start anew by changing Ben's name to Rocco.
In preparation for the ball, last year's tango between Duke Lavery (Ian Buchanan) and Anna Devane (Finola Hughes) might be trumped this year by Cameron (Michael Leone) and Emma's (Brooklyn Rae Silzer) version of the dance. The little couple are given lessons by the older and wiser adults. Meanwhile, Sonny (Maurice Benard) and Olivia (Lisa LoCicero) appear at odds after Olivia shares her suspicions with Sonny after putting the pieces together and figuring out what he's been hiding.