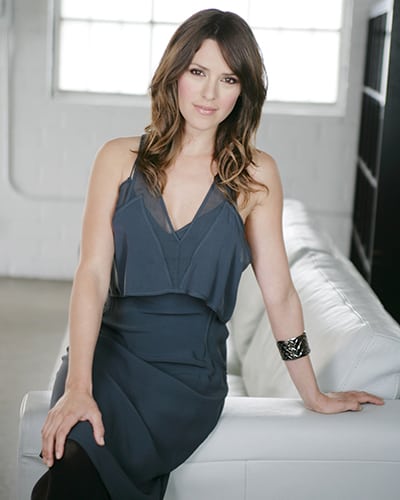 Shortly after Elizabeth Hendrickson announced that she was leaving the role of "The Young and the Restless'" Chloe Mitchell, Soap Opera Network had the chance of speaking with the actress about departing the role she's played for the last six years. In Part One of our Center Stage interview with the New York native, who was just nominated for Outstanding Supporting Actress in this year's Emmy race, she discussed why she chose to walk away from daytime as well as her hopes for her future career. But that's not all the actress divulged during our in-depth chat! In Part Two of our Center Stage interview with Hendrickson, she opens up about Chloe's final days, her wish for the character and fans, as well as her hesitation about saying goodbye to "Y&R!"
Last month marked Hendrickson's final days of taping as her Genoa City alter ego, and closing the book on this chapter of her life actually had her a bit nervous about her decision to leave the role! "If there were any moments of me getting nervous, that's where I started to almost second guess myself, because it reminded me of, 'Wow, you have this great life and these great friends, and you're so lucky that you have this awesome job that you get to come to a few days a week, and you're a working actress, you support yourself,'" she admits. "But at the time, it really felt like the right decision to be made. Once the decision was actually presented with the option to stay or go, I was in a pretty clear space with myself and knew what I was going to do. I know I made the right decision, and I am going to stick with my gut on this one."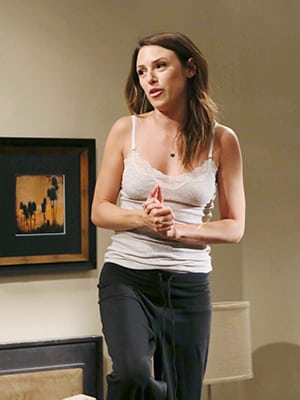 So there you have it: She won't be changing her mind any time soon, despite just being nominated for an Emmy for her work. But that's not to say she wouldn't be open to returning to soap operas some day in the future — especially given the way Chloe will be written off the canvas, with the option to return in the future. "She's really just trying to live, and I think that she can't stay around these reminders [of her daughter] that aren't helping her get better, so she's going to try and make her life as normal as she can," the actress teases of what's to come.
Although, before things get better, there's a chance they'll get a whole lot worse — as viewers have already seen via the return of "old" Chloe. "I think that the fans will really enjoy [Chloe's final weeks], but I think they might also feel like, 'Oh, we finally just got what we've been asking for, and now you're ripping it away from us!'" she says with a laugh. "But they're leaving it open. Hopefully there will be some times or some ways for Chloe to come pop her head back in Genoa City. I would absolutely love that if the show can find room for it. You never know. You never know what's going to happen."
Either way, Hendrickson hopes that viewers can find compassion for the character in the weeks to come. "My final wish for Chloe is just that people will understand or at least sympathize with this struggle that she's been through in the past year and that they will excuse any odd behavior that she may have in the next few weeks," she shares with a laugh. "You'll see! Things [get intense] in the end."
Though probably not as intense as Chloe's cancer storyline, which the actress puts at the top of her "Y&R" achievement list. "I'm the most proud of my cancer storyline, for sure, as well as my attempt in trying to play a mother, which was really far-fetched for me," she reveals. "And of course, I'm also proud of the work I did with Greg Rikaart [Kevin Fisher] over the years, especially our attempt to show comedy in soaps, which you don't see very often. I think that we did a good job with that, or at least, I know that Chloe got pretty funny there for awhile."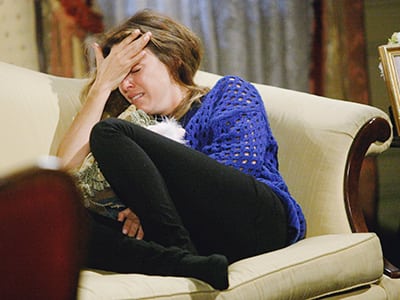 Speaking of funny, as fans might recall from Part One of SON's Center Stage with Hendrickson, she's hoping to include a lot more comedy into her future career — especially because the last few months have been anything but silly for the actress and her alter ego. "I can't tell you how much I've cried in the past nine months! It's pretty exhausting," she says of the Delia hit-and-run story. "So yeah, just going somewhere as an actress [I hadn't been before]. And not that I didn't have faith in myself, but it was just something that I knew I had to dig really deep to find and be able to discover truth for myself, because the story was so outside of my reality. And I kind of trusted myself and dove into it. And looking back and seeing what I produced and what I portrayed in the amount of time we get to do it, which was one or two takes — if we're lucky, two takes — I was proud of myself. Because sometimes I watch, and I'm like, 'Wow, that was really good. If I had eight more takes, I wonder how good that would have been!' I'm definitely proud of all of that."
Fans of the actress are equally proud, with most having enjoyed every heartfelt moment of Chloe and Hendrickson's past year. And for that, the actress is eternally grateful. "To the fans, I give the biggest hug and the biggest thank you that they could possibly imagine," she says. "My arms are wrapped around them with a big kiss on the cheek and a huge thank you. The support and the love they've given has kept me going for this long. They are really a part of me, and I hope that they continue to follow me no matter where I go. I'm thankful for them for everything and the fact that they are supportive of this decision… Everyone seems to understand that sometimes you just need to move on and take care of yourself. So I just really appreciate everyone being understanding of that. So a big hug and a big kiss! I will definitely miss everyone."
Watch for Hendrickson's final appearance on Tuesday, May 27.